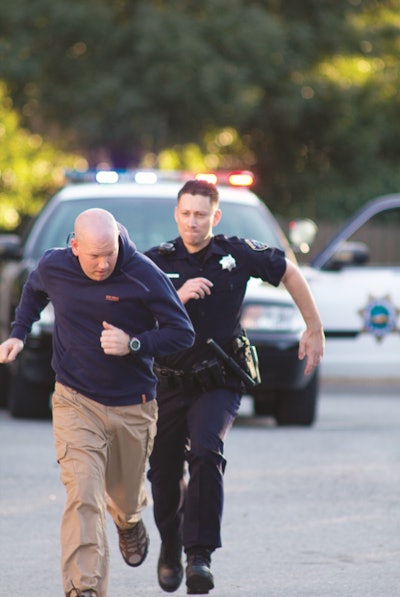 You are a professional athlete. You may not wear the colors of an NFL team like the New England Patriots, but you wear a more important uniform—and you have a greater purpose. You protect your community and you protect your country. High-intensity physical training can help you with your mission.
Functional Fitness in 20 Minutes or Less
Although your job is more important than any athlete's, no one is helping you on a daily basis to be as mentally and physically prepared as possible for your duties. This is despite the fact that it has been 14 years since Greg Glassman, CrossFit's Founder and CEO, wrote in the CrossFit Journal, "Cops and soldiers are professional athletes. In fact, we argue that the physical preparedness required of military combat—and by extension law enforcement—matches and regularly surpasses that required of Olympic athletes."
Certainly, though, CrossFit was not as well known in 2003 and social media was still in its infancy so this kind of message was not shared and passed along like it would be today. In fact, I learned about CrossFit the old-fashioned way—through word-of-mouth. In one of those life-changing interactions, I was teaching a Hostage Rescue Course in Florida in 2005 and started talking to a SWAT operator named TJ Cooper. TJ and I were sharing training philosophies when he told me about a workout program he was using called "CrossFit." He advised me that CrossFit taught him that if you are working out for more than 20 minutes, then you are doing something wrong.
When I thought about TJ's statement, I knew that he was right. As a boy and as a teen, I played many kinds of sports. But baseball, martial arts, and a short stint in boxing resonated with me the most. As an adult with the demanding hours of a police officer, I was creating my own workouts based on my own prior sports interests so I was doing heavy bag workouts, hill sprints, striking workouts, calisthenics, situational sparring, weight training interval workouts, etc., all for 20 minutes or less and all at a very high intensity. So, for me, TJ's statement made all the sense in the world, and I immediately started researching CrossFit's training philosophies and methodologies.
Why Go Hard?
But I knew then, as I know now, that CrossFit does not resonate with everyone in the same way. Instead, I believe wholeheartedly that the essence of CrossFit's philosophies can be of enormous help to all law enforcement officers. CrossFit's idea that a great workout is high in intensity and short on time meshes very well with a sleep-deprived, atypical-schedule profession. Likewise, CrossFit's other training philosophies include exercising in a way that is constantly varied, focusing on functional movements and keeping the workouts unknown until the last minute. All of these qualities perfectly mirror the reality of a profession that is constantly varied, requires functional movement patterns to complete numerous tasks, and is full of high-intensity situations.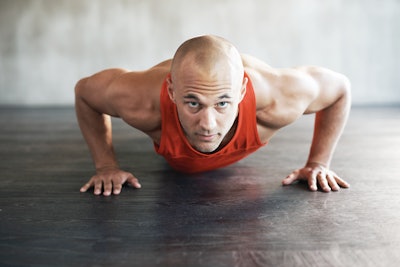 Setting the name "CrossFit" aside, what does all this mean for you and me? Well, elite military units and domestic law enforcement SWAT teams are known to emphasize doing prime physical conditioning through high-intensity workouts. This is because tactical operators understand that consistently challenging themselves by completing physically and mentally demanding workouts develops willpower and resilience. They perform workouts that force them to go beyond their physical discomfort by silently talking to their minds and convincing themselves to do one more rep, to run for one more minute, to finish one more daunting workout, etc. In this way, they train themselves to endure physical, emotional, and mental discomfort so that they can finish any task at hand, no matter how grueling. In other words, they get comfortable with being uncomfortable.
Since no law enforcement officer can just give up on a foot pursuit, run the other way when danger strikes, or say "No" and walk away from a call that is too sad or too overwhelming, the need to be comfortable with being uncomfortable applies to all members of law enforcement. However, post-academy, law enforcement agencies tend to stop looking at their officers in this much-needed "professional athlete" mode.
Nonetheless, research supports that high-intensity physical training involving functional movements:
Increases functional movement potential
Improves mobility
Progresses range of motion
Improves health
Reduces stress
Enhances brain function
Increases resilience
So, as a law enforcement professional, you should be chasing the above benefits with the same sense of urgency as you would chase a dangerous bank robbery suspect. Ultimately, your job performance, your livelihood, and your wellness depend upon your physical and mental strength. So, integrating high-intensity exercise into your lifestyle can reap benefits far beyond good physical conditioning.
Not So Fast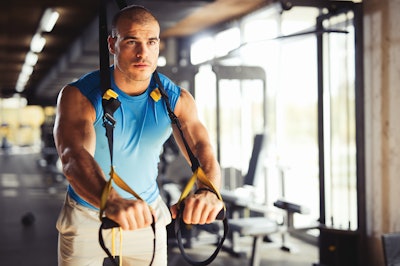 With that said, the law enforcement profession creates many challenges including compressed work schedules, overtime, canceled days off, mandatory court appearances, shift work, and working on four to six hours of sleep at best. Additionally, these are enormously stressful times for police work and stress means that finding the energy to train is an enormous challenge for many officers.
Also, every individual is different. "High-Intensity" is different for every person. So, any prudent, high-intensity workout plan begins with a trip to the doctor to discuss short-term and long-term fitness goals.
Finally, it is essential to remember that neither Rome nor fitness and health were built in a day. The old adage "Listen to your body" is always great advice. Dr. Kelly Starrett takes this to the next level. He has crafted the MobilityWOD's 24-Hour Adaptation Cycle, No Tech Readiness Assessment Questionnaire. It asks the following three questions:
Did I Sleep 7 Hours? Yes or No
Do I Desire to Train? Yes or No
Am I in a Good Mood? Yes or No
If you answered two out of three of these as a "No," Dr. Starrett recommends that you consider skipping a high-intensity training session in favor of a 30- to 60-minute walk. Or, if you're not a fan of walking, you can opt to do non-heated, low-intensity yoga, foam rolling, or some mobility work as a substitute. Sometimes "slow and steady" is just more prudent than "quick and high-intensity."
Getting a Head Start
My next column will cover how to incorporate high-intensity workouts into your daily routine, and I will offer some sample workouts. But if you want to start now, here are some basics:
High-Intensity workouts can be done anywhere and anytime that's reasonable for you and your schedule. Whether you're in your basement, garage, department gym, or park, you can conduct an incredible workout with minimal equipment.
The internet is full of great ideas for high-intensity workouts that can be done almost anywhere with little-to-no equipment.
CrossFit offers specific workouts that they call WODs (Workouts of the Day). Their Travel WODS, in particular, offer workouts that can be done with little-to-no equipment.
Finally, you can become familiar with high-intensity exercise by starting with the following workout:
10 Rounds for Time:
10 push-ups
10 sit-ups
10 air squats
Scale this as needed for your fitness level by decreasing the number of repetitions per exercise and/or the number of rounds, doing push-ups on your knees, etc. Count one "round" as one set of push-ups, sit-ups, and air squats. Time yourself and work on improving your time, while never compromising your form.
Melissa Ryan assisted in the preparation and writing of this article.
George Ryan is a sergeant with a major Southern California agency. He spent 17 years in SWAT, and he created his department's Peak Performance and Recovery Training program.