5.11 Tactical
TMT R1 Flashlight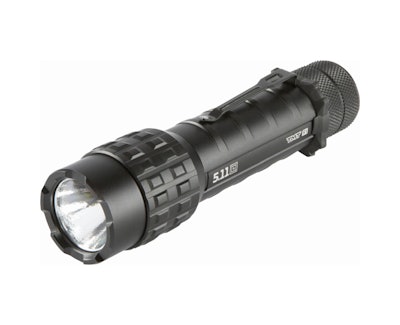 The TMT R1 Flashlight from 5.11 Tactical is designed to provide durability and rechargeable convenience with an output of 339 lumens on high and strobe. It comes with a Li-Ion rechargeable battery pack, dual CR123A battery pack, charging cradle, and both AC and DC connectors. The water- and impact-resistant TMT R1 is tested to ANSI FL1 standards and features intelligent high/low/strobe mode cycling, a momentary-on switch, black TPR soft touch anti-roll ring, and a stamped metal pocket clip.
Elzetta
Shield Light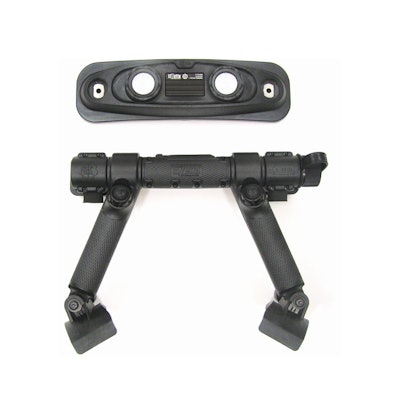 The Elzetta Shield Light puts illumination directly on your shield. It includes a horizontal handle with an integrated solid-state tape switch, while the TriDextrous control system version provides three gripping surfaces with light-activating switches in each location. Both models deliver 1,000 lumens of neutral-tint white light through two solid-acrylic optical flood lenses to uniformly illuminate an entire room. Electronics are fully potted for durability with redundant circuitry to ensure continued operation if one source is damaged. A strobe feature is optional.
First-Light, USA
T-MAX LE Kit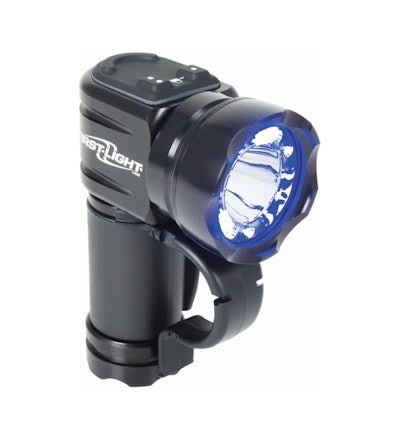 Built specifically for law enforcement officers, First-Light's T-MAX LE Kit features a powerful white-light output of 700 lumens, red/blue/white LED safety beacon, strobe capability, and belt mount. An ergonomically designed grip provides access to the entire control panel with just your thumb, and the distinctive finger loop allows you to load, reload, and clear your weapon without releasing the light. First-Light's hands-enabling design allows for maximum versatility when executing critical tasks in virtually any situation.
First Tactical
Small TriTac Flashlight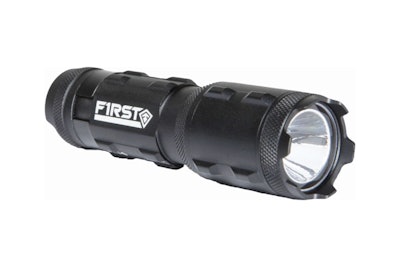 The Small TriTac Light is powered by a Duracell Ultra CR123 battery to provide a reliable, high-output light source that is light weight and always ready. The light features an Intelligence Button system with a half-second delay, allowing users the ability to easily find the correct light mode without searching frantically.
https://www.firsttactical.com/products/small-tritac-light
Kel-Tec
CL-43 Flashlight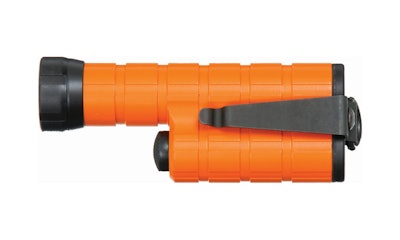 With 420 lumens and a 160-meter beam, the Kel-Tec CL-43 flashlight is made to light up everything: friend or foe, street, alley, lot, or building. Specifically designed for use with a firearm, its rearwardclick button has constant and momentary-on capabilities. The CL-43 also uses three CR123 batteries which allow for a continuous runtime of 3 hours 35 minutes. And it's impact- and water resistant. The Kel-Tec CL-43 flashlight is also available in seven colors, ranging from Black, Blue, O.D. Green, and Coyote Tan to Yellow, Orange, and Red.
https://www.keltecweapons.com/keltec-gears/flashlights/
Littlite LLC
CC-LED Task Light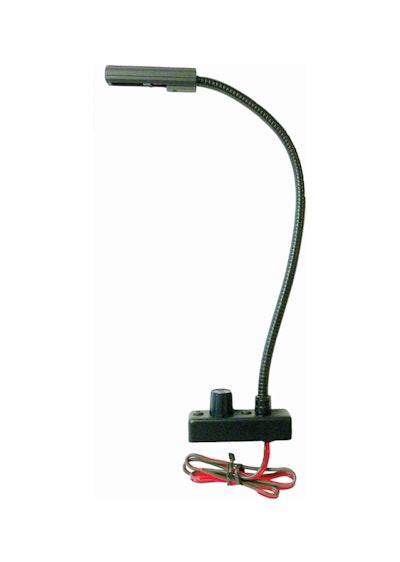 Littlite recently introduced its CC-LED series of gooseneck task/map lights that provide smoother LED dimming and operate on a wide range of input voltage (8-28VDC). These products can be ordered with 6-inch, 12-inch, or 18-inch goosenecks mounted at the top or end of the base. Later this year, Littlite plans to announce two new innovative and distinctive gooseneck products for law enforcement vehicles.
https://littlite.com/products/product/cc-led-series-led-task-lights
Pelican
7070R Flashlight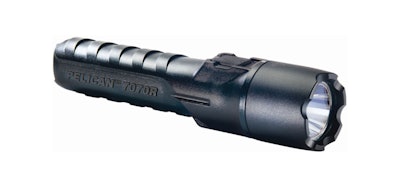 The new technically advanced 7070R from Pelican can be programmed via Bluetooth app and comes with a wireless USB charging cradle, keeping the 7070R free from connecting USB cables directly to the flashlight. Dual Switch technology activates the flashlight by forward- or rear-mounted switches, giving you the option to move from duty to tactical situations instantly. Other features include full-time battery level indication and an anti-reflective glass lens. The 7070R is expected to be available in March.
Powertac USA Inc.
E9 Compact Duty Light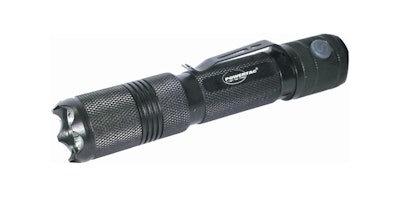 The Powertac E9 was designed as a true tactical light with feedback from federal, state, and local law enforcement. This extremely lightweight illumination device with a maximum output of 1,020 lumens runs on both CR123A and rechargeable 18650 batteries with almost no difference in runtime or performance. It features a two-button system where the rear button is your on and off only and a side button on the tailcap allows you to change modes. A Tactical Long Gun Kit that includes a remote pressure switch and offset tactical mount is also available.
QuiqLite
QuiqLiteX2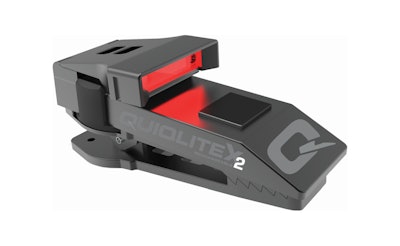 QuiqLiteX2 is the newest addition to the QuiqLite family of products. Manufactured from aircraft-grade aluminum, X2 was designed to withstand an assortment of punishment. This adjustable hands-free concealed LED flashlight provides from 20 up to 200 lumens of light on demand. Its new extra wide (30mm) adjustable flood light arm gives you the freedom of directing light where you need it without having to hold it in your hands or under your arm while reading, writing, and maneuvering in the dark. QuiqLite X2 also comes with a lifetime warranty. It will be available in Spring 2018.
Streamlight
TLR-7 Weapon Light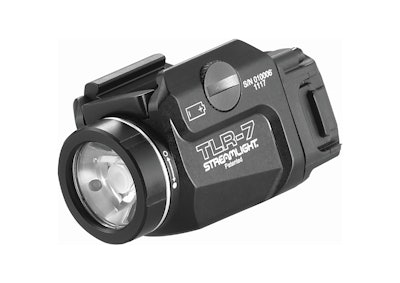 Ultra lightweight and low profile, the TLR-7 weapon-mounted tactical light features the latest in power LED technology and provides 1.5 hours of continuous runtime from a single lithium battery. Just 2.15 inches in length and weighing 2.40 ounces, it delivers 500 lumens. The TLR'7's rail clamp is designed to rapidly attach and detach from the side of compact and full-frame weapons. The light also includes a safe-off feature, locking it so it cannot be turned on accidentally.
SureFire LLC
G2X Tactical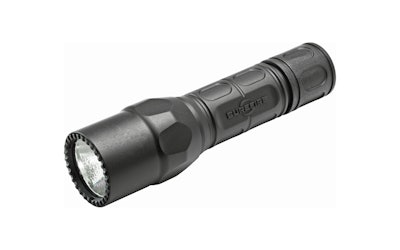 The G2X Tactical provides a single output level — a brilliant, penetrating 600-lumen beam. It features a lightweight, high-strength Nitrolon polymer body that is comfortable to hold in cold weather and provides corrosion resistance and durability. A virtually indestructible LED emitter regulated to maximize output and runtime and a precision reflector creates a smooth, optimized beam for plenty of reach and surround light. The G2X Tactical comes with a press/click tailcap switch.
http://www.surefire.com/illumination/flashlights/g2x-tactical.html
Tactical Impulse
LE-1+ Duty Light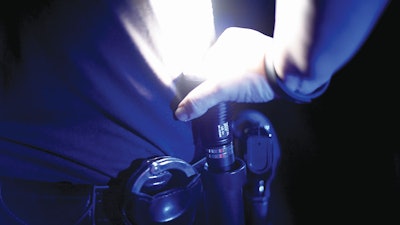 The 800-lumen, true neutral white duty light from Tactical Impulse features tail-attachable accessories to provide versatility. An electronic "traffic wand" tail attachment transforms the LE-1+ into a traffic control tool, providing for bright wand signaling and simultaneous main flashlight use. The flashlight is also able to detect its Smart Holster, and automatically keep itself off while holstered. In the newest LE-1+ model, an optional user program allows the flashlight to remember its operating state prior to holstering, and then automatically return to its state simply by deploying the light.
Tele-Lite Inc
New LED Portable Power and Light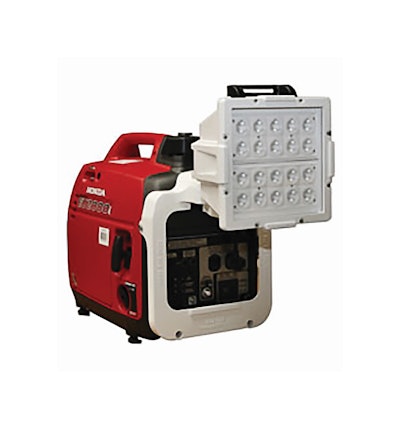 Tele-Lite's new Honda EU2200i Inverter generator with the Tele-Lite TEU-2.LEDTL6 LED Light Kit will be available in early spring 2018. This innovative portable power and LED floodlighting system provides an upgrade to the EU2000i platform. The all-new EU2200i super-quiet series generator has a fresh new look and style, and offers new features and 10% more power. Adding the TEU-2.LEDTL6 light kit to the new EU2200i Honda Generator provides a great combination for emergency scene lighting. It's designed to give you more power and light, with the same performance, quality, durability, and reliability.