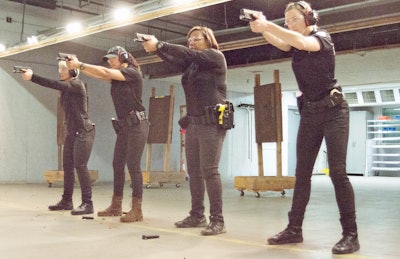 Last year 5.11 Tactical launched a new women's tactical pant, the Women's Defender-Flex Slim Pant, with the goal of creating a flattering and functional design that women could wear on the range and as casual fashion.
Women law enforcement officers and sports shooters have long complained about the lack of rugged, functional, and good looking tactical pants. Often tactical pants for women are recut versions of men's models. So 5.11 is taking aim at a difficult target with its Women's Defender-Flex Slim Pant.
To find out if 5.11 hit the bullseye with the new women's pant, POLICE sent four female law enforcement officers the product and asked them to wear it while conducting a variety of activities and to give us their impressions. This is their review.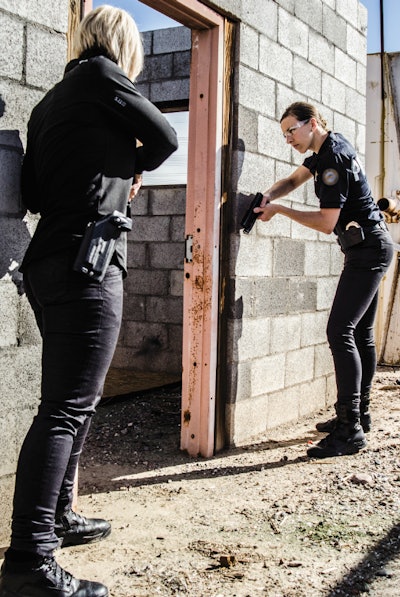 The wearers were asked how the new 5.11s compare with other tactical pants they have worn. Wearer One was unabashed in her answer.
"I love these pants," she said. "Most tactical pants are slightly uncomfortable for me as a woman. They tend to be bulky." Wearer Two echoed that sentiment. "Most tactical pants have been made for men, but these were truly made for women," she said. Wearer Three also praised the pants, and said her expectations for their quality were high because of her experience with 5.11 products and she wasn't disappointed. Wearer Four liked the ease of movement she enjoyed in the pants. "It was easy to kneel, jump, and run in them," she said.
The wearers were asked to rate the comfort of the pants. "I thought they were very comfortable, as the material was smooth and soft and stretchy without feeling like leggings. For females with curves, they are great because they have give in them," Wearer One said. The other women agreed.
When asked what they liked most about the pants, the women really liked the pockets and the styling of the pockets. Wearer One said the numerous pockets "laid flat without bulging or looking like there was a ton of fabric underneath. A lot of pants that are slim fitting appear very bulky at the pockets. I had several things in my pockets and these pants didn't appear huge and bulky." Wearer Two agreed, saying the pockets are "perfectly placed and sized." Wearer Four also praised the style and fit.
Responding to the question "What would you like to see improved about these pants," Wearer Two said there was nothing to improve and 5.11 shouldn't change a thing. However, some of the other women testing the pants did have notes for the company. Wearer Four said she wanted a bootcut version. Wearer One said 5.11 needs to add more room in the legs for athletic women. "I got a size 6 long, and the long length was perfect for me, but I needed just a tad more room in the calf area," she said. "I would imagine a lot of female law enforcement officers may have this issue because of our active lifestyles."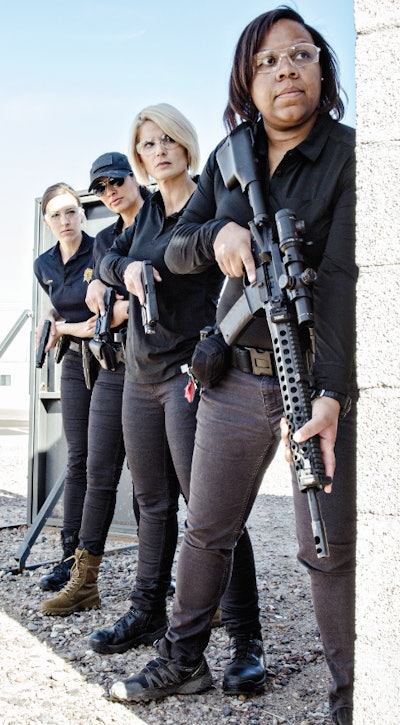 The Women's Defender-Flex Slim Pant was designed for both the range and casual wear. So the reviewers were asked if the pants would perform well during law enforcement training. Wearer One said, "I wore these to a training session, and I felt comfortable with them on." She praised the pants for their numerous belt loops and pockets and for their stretch. "I wore them shooting as well, and felt like they were durable when I needed to be active or while on the ground," she added. Wearer Two said the pants would probably be good for training, but she was less sold on wearing them to the range.
Overall the wear testers were very happy with the Women's Defender-Flex Slim Pant. Wearer Four said she loved the styling and versatility of the pants. "I really liked how I can wear them and go from the range to brunch with my girlfriends with just changing my shoes. I even paired them with high heels and wore them to my friend's bachelorette party."
Wearer Two gave another rave review. "I am in love with all of the pockets. I have always felt tactical pants have been made for men, but these I truly felt were made for women. I usually am not able to carry my off-duty weapon comfortably with other pants, but with the [Women's Defender-Flex Slim Pant] I am able to carry my knife, handgun, and my phone. What more does a woman need?"
Features of the 5.11 Women's Defender-Flex Pant include: two welted device-ready pockets at the front, two hidden pockets at the hip that can fit AR magazines, and enzyme-washed fabric for a soft faded finish. The pant is constructed of 8.8-ounce Cavalry twill, which is 66% cotton, 31% polyester, and 3% elastane. It has a fitted waistband, belt loops built for holster wear, a button-top fly with locking YKK zipper, and dual back patch pockets. List price is $69.99.