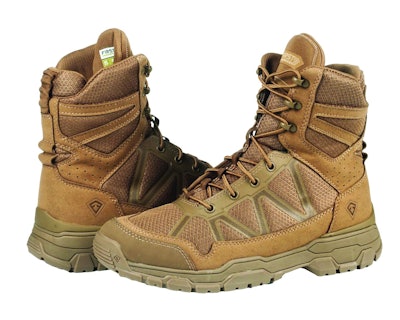 If you've read any of my previous reviews you already know that I'm a big fan of First Tactical. It isn't often that we get a newcomer to the law enforcement and tactical apparel game, especially one that hits the ground running with high-quality gear at great prices. This time around we're taking a look at their 7" Operator boots, First Tactical's first venture into non-uniformed footwear.
The Operator boots come in coyote tan, in both standard and wide widths. The basic premise of this boot is to be a "tactical athletic shoe" that is lightweight, breathable, and flexible. If you're looking for a rugged, traditional boot these aren't for you. The sole of the Operators is one-piece molded rubber that is oil- and slip resistant. The tread on the bottom is pretty aggressive but also has enough flat sections to keep grip on smooth surfaces. The heel is reinforced for support and there's a robust toe cap to protect your feet and minimize wear under hard use.
The body of the Operator boots is a mix of synthetic suede and a very breathable "air mesh" that creates a soft and lightweight boot with great air flow. TPU detailing crisscrosses the entire boot for structural support and is especially heavy around the lace eyelets. This area is especially thick and rigid when compared to the rest of the boot's ultralight construction and I have no doubt it'll hold up under extreme use. The tongue is gusseted to keep sand and other debris out and the laces are the solid corded style that generally last much longer than traditional flat laces. Throw in a knife pocket on either side of the well-padded uppers and the Operators certainly bring a lot to the table.
I've been wearing the Operators to work daily for a couple of weeks now and I have to say they live up to their claims of being lightweight and super comfortable right out of the box. The standard width is a little on the wide side, which I prefer, and the footbed is very well cushioned. Overall I'd compare these to a good pair of hiking boots more than I would anything in the military-style boot arena. If that's the mission you're aiming for give the First Tactical Operators a try. Take a look at www.firsttactical.com.
A.J. George is a sergeant with the Scottsdale (AZ) Police Department assigned to the Technical Operations Unit, Special Investigations Section. He has more than a decade of law enforcement experience in patrol, field training, and traffic enforcement.