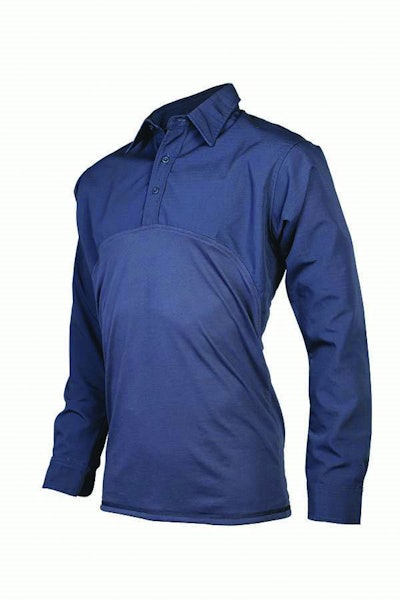 The days of the traditional polyester police uniform are slowly coming to an end. New fabrics, designs, and operational requirements have answered officers' calls for a more functional and comfortable uniform. One of the most welcomed innovations we've seen in recent years is the shift toward exterior body armor systems.
These new vests can be made to look just like the traditional button-down shirts but are more comfortable and breathable, and allow the officer to remove their armor easily when in the station for a quick cool-down. Since these new vests cover up the majority of the shirt underneath there is no longer a need for the added bulk of a standard button-down shirt. We really only need the sleeves and collar to look the part. Tru-Spec's newest Tactical Response Uniform, or "T.R.U.," series Defender shirt does exactly that.
Made from a blend of poly-cotton rip-stop fabric on the sleeves and upper torso, the Defender has a clean and crisp appearance with excellent durability. The upper torso has a three-button opening with a Byron collar that won't wrinkle or roll up and the sleeves have buttoned cuffs to give the shirt a professional appearance. The Defender even comes with a set of epaulettes that can be sewn on to complete the package. Worn under a vest you'd never know it wasn't your average Class-A shirt.
The torso of the shirt is where the Defender sets itself apart; made from a form-fitting yet flexible Drirelease fabric that is incredibly comfortable, flexible, and most importantly breathable. Tru-Spec claims it'll keep you 7 degrees cooler than the competition and the Fresh Guard treatment is naturally antibacterial to keep you smelling fresh. It also offers an athletic fit for a clean uniform appearance. No more bulky shirt fabric sticking out from under your armor.
If you're used to wearing a modern combat shirt in a tactical configuration the Defender will feel very familiar as the concept is the same. I wore mine for a few days and have to say it was one of the most comfortable uniform shirts I've ever tried. If you're looking for that perfect balance between comfort and professional the Defender might be the answer. Available in navy blue, black, and OD green, the Defender can fit a variety of uniform configurations, and at a price of $63.95 direct from Tru-Spec it is a bargain. See the full specs at www.truspec.com.
A.J. George is a sergeant with the Scottsdale (AZ) Police Department assigned to the Technical Operations Unit, Special Investigations Section. He has more than a decade of law enforcement experience in patrol, field training, and traffic enforcement.