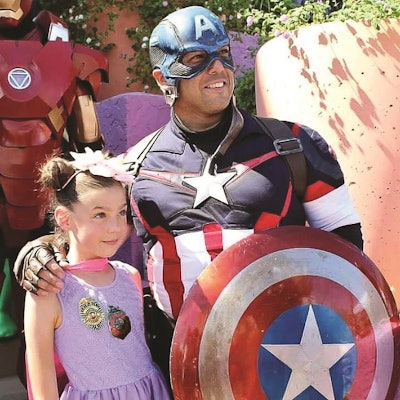 Phoenix Crimes Against Children detective Sean Reavie is a self-described comic book "nerd." And in recent years, the two-time Arizona Police Officer of the Year has channeled his love of superheroes to help the city's most needful kids, the ones who are physically or sexually abused and the ones who are neglected.
Reavie is the creator and organizer of a charitable effort called Superhero September, which raises money to provide toys and apparel as well as other comforts for the children his detective unit is tasked with protecting. The program is named for the types of toys it provides.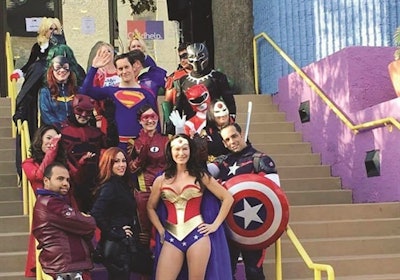 Superhero September was inspired by wall art of Batman and the colorful villains that plague Gotham City that Reavie saw back in 2015. That art started him thinking about the fact that many superheroes have tragic back stories of childhood trauma, and their stories are ultimately about rising above that trauma to become heroes. Batman's parents were killed in front of him when he was a boy. Spiderman is an orphan who saw his beloved Uncle Ben murdered by a robber. Thinking about that, Reavie decided to inspire the kids coming to the Child Advocacy Center, where he works, to see themselves as superheroes. "The little kids who came here were sad and afraid and they would leave here sad and afraid," Reavie says. And he wanted to change that.
With cooperation from Childhelp Children's Center of Arizona, a charity that also operates from the Child Advocacy Center, Reavie set about adding some comic book touches to the facility. At first his plan consisted of decorating the walls of the playroom with superhero art. Then he decided to take the next step. He had the magazine racks filled with comic books. After that he got a bunch of capes and masks so that the kids could play superhero. Which led to giving the kids superhero stuff they could take with them when they left the center.
Reavie says he put out a request to fellow officers for kid-size superhero T-shirts and superhero action figures. "What I wanted was 100 T-shirts and action figures. I shared what I was doing with my police friends and pretty soon I had a desk full of the stuff," Reavie says.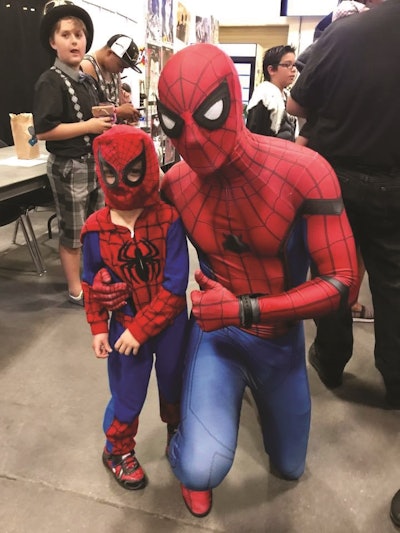 All of this effort led to the first Superhero September four years ago. That was a fairly low-key event. The public wasn't invited, just first responders. But some of those first responders dressed up like comic book heroes, which sparked the interest of Phoenix's TV3news.
The TV3 story led to huge growth of the event. Local store managers donated gifts cards, the public got involved, and there was more press. Last year Superhero September raised $22,000.
This year Reavie and the other volunteers working to produce Superhero September: The Fantastic Fourth are planning to raise $50,000 in cash and products. Reavie says this year's effort includes 20 fundraisers, nine events, and a big celebration Sept. 8 featuring 45 hobbyist costume players from AZ Heroes United in full superhero gear, an Infinity Stone scavenger hunt presided over by Thanos (villain of the Marvel blockbuster movie "Avengers: Infinity War"), face painting, and much more. Throughout the month the superhero actors will also be going on shopping sprees in area stores.
Reavie says Superhero September needed to grow because he realized the mission had to expand. "It's great to give a kid an action figure of their favorite superhero to change their outlook. It's even better to have that kid leave here (from the Child Advocacy Center) clean with a full stomach and in new clothes and shoes," he says. Superhero September is now providing the children who come to the Center with food, clothing, shoes, school supplies, plus the toys and comic books. Some companies are even donating diapers, according to Reavie.
"We are really resonating with people," Reavie says. "I had a good idea and above average people said, 'That's a great idea. How can we help?'" Those "above average" people include the Phoenix Police Sergeants and Lieutenants Association, the Phoenix Law Enforcement Association, the United Phoenix Firefighters, Childhelp, the professionals and volunteers who work at the Child Advocacy Center, local businesses, and even the Phoenix Police marketing team.
Through that marketing, Superhero September has been the subject of numerous TV news items and print stories in the Phoenix area and beyond. But so far no other city has tried to copy the Superhero concept. Reavie would like to see that happen and he would be glad to discuss it with fellow officers. But his focus is Phoenix.
Reavie sees the charity as an extension of his duty. "Uncle Ben in Spiderman said, 'With great power comes great responsibility.' By being sworn as a detective to take care of children and defend them, I have a great responsibility and it goes beyond the criminal case I am investigating. We have the power and the responsibility to protect these children. And while they are here at the Center, we can do so much for them."
Reavie admits that some people may believe his approach to changing the outlook of abused and neglected kids is "simplistic." And at the beginning even he asked if the superhero concept was really doing any good. Then he saw something that convinced him that he was on the right track.
"A 6-year-old girl, a sex abuse victim, came into the Center. She was terrified. All she would do is cling to her mother's leg. Finally, we coaxed her into the playroom. Then she just hid in the corner. I had the playroom staff find her a cape and a mask. They gave her a Batgirl-like cowl and cape in pink. She put it on. And within seconds, that little girl got up and ran over to the other kids in the playroom and told them, 'I'm a superhero, and I'm here to save all of you.' After seeing that I knew this works. It's a direct way to completely change these kids' affect. They put on that costume and they're kids again."
Superhero September: The Fantastic Fourth is scheduled for Sept. 8 from 9 a.m. to noon at 2120 N. Central Ave. in Phoenix.