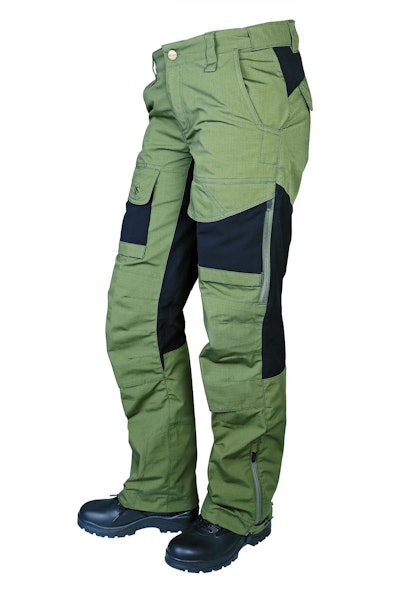 More and more manufacturers of law enforcement and tactical apparel are making products specifically for women. TRU-SPEC's latest product in its for women line is the Women's 24-7 Xpedition Pants.
TRU-SPEC's 24-7 Xpedition Pants are high-end tactical pants designed for rugged wear. Both the men's and women's versions of the Xpedition Pants are made of 6.5-ounce polyester and cotton rip-stop fabric with a DWR water repellant coating and double weave 91% nylon and 9% Spandex accents.
The Women's 24-7 Xpedition Pants are cut specifically for women. They have a lower rise with a women's cut in the hips and thighs. Other features include: the usual collection of tactical pant cargo pockets, including a left pocket with a zipper closure under the flap for secure storage; dual mesh zippered cooling vents on the legs; back pocket with zipper closure; adjustable snaps on ankle cuffs and boot hook; additional layer of nylon webbing for reinforced durability from boots; and integrated soft flex panels for ease of movement. Available in Coyote, black, and green with black accents. Sold in sizes 2 through 14 with inseams ranging from 30 inches to 32 inches.
POLICE Magazine asked two veteran female officers to wear the 24-7 Women's Xpedition Pants and give us their reviews.
Tester One wrote: "These pants are definitely more rugged than other tac pants I have worn. The combination of the rip-stop type of material with some kind of stretch material woven into them make them durable yet comfortable. The fit and the comfort were the two things I liked most about these pants. I wore them all day on the range in 105 degree temps and was very comfortable. Although I definitely sweated, the pants did not look wet with sweat, which is a nice bonus. I would wear these pants on the firearms range, in hands-on training, and to teach physical skills classes. They are well suited to both indoor and outdoor wear and for hiking and everyday casual dress."
Tester Two wrote: "Compared to other tactical pants I have worn they are more comfortable and more durable. The rip-stop is obviously stronger and the reinforced areas are definitely a bonus. The Spandex blend seems to make them really flexible so the comfort level is very high. I would definitely wear these teaching on the range, teaching officer survival schools, and in the classroom."
Our two reviewers loved the pants but the big question about the TRU-SPEC 24-7 Women's Xpedition Pants is the price. They list at $117.95 (the www.truspec.com site has a standard discounted price of $93.95 and through October is selling the pants for $70.46). That October sale price would be great news for our reviewers who both said after wearing the pants they would be willing to pay full list for them.