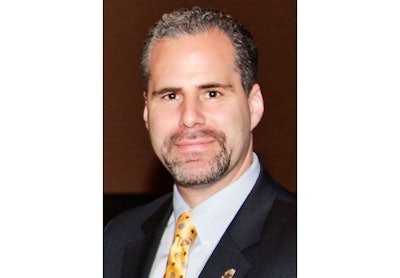 As a former law enforcement trainer, I live by the credo: Always wear your body armor and always wear your seat belt. But I don't recall dust masks being part of that safety proclamation. Yet on the 17th commemoration of 9/11, I saw news clips of first responders protected only by dust masks as lethal toxins rained down upon them. I also saw former New York City Mayor Rudy Giuliani wearing a dust mask as he walked around the impacted area of Ground "Hero."
Dust masks were pretty much useless at Ground Zero. I know; I was there and I witnessed first responder honor and leadership on that fatal day, and the days after, but I did not see science.
I recall grabbing a five-minute break with my partner Ron Gardella. It was after midnight and technically 9/12. As we sat there drinking bottles of water that a Salvation Army worker was nice enough to give us, the toxic ashes fell on us like lethal snow. Ron looked at me and said, "You know, this probably isn't good for us." He was referring to our breathing in and ingesting the airborne toxins, which we minimized as ashes at the time.
Now 17 years later, many first responders are continuing to deal with the sustained exposure to 9/11 toxins. We lost 72 law enforcement heroes on 9/11, and since then, we've lost more than 100 9/11 first responders to diseases associated with sustained toxin exposure. Wearing a dust mask on 9/11 was like bringing a knife to a gun fight. While we all carried firearms, handcuffs, radios, and flashlights, we were not equipped with the knowledge of how to protect ourselves from the toxins.
In retrospect, we all understand there was no pause button on 9/11 for medical experts to hit while they researched the impact of sustained toxin exposure. The attacks were unprecedented and we did not have a section on protecting officers from crushed building toxins in our defensive tactics manuals. But much like the evolution of ground fighting, we update our tactics manuals periodically as we learn. By updating equipment, training, and officer knowledge, we better protect our first responders from tomorrow's hazards. And sadly, tomorrow's hazard has arrived in the form of lethal drugs such as fentanyl.
Officers and investigators continue to be exposed to lethal synthetic opioids in the course of their duties. After experiencing either touch or inhalation exposure, officers have become immediately ill and have required emergency medical care. Concerns associated with fentanyl exposure have escalated to the point where some judges won't allow it to be brought into their courtrooms as evidence. While that may be a wise decision, simply banning something as a safety precaution doesn't fill the knowledge void. Officers will continue to come into contact with extremely strong and potentially lethal opioid drugs and need to be armed with scientifically validated facts and not fiction.
In the past year, POLICE Magazine has published informative articles addressing the dangers of officer exposure to opioids and how officers should protect themselves and even their K-9 partners. To build upon the value of this content, a federal interagency working group created an informative video titled, "Fentanyl: The Real Deal" and unveiled it in August. Supported by the national law enforcement organizations, this seven-minute video has been disseminated nationwide. The video itself provides valuable information on the types of exposure, what to do if exposed, and the anticipated effects, and also dispels misinformation. One point that resonated with me is that officers should clean their hands with soap and water if contact is made and not hand sanitizer, which will only increase the absorption of fentanyl through the skin.
During 9/11, and the days after, we did not have a video to guide us. We had dust masks, failed EPA air sensors, and a nagging sense that the toxin exposure wasn't good. The risks of the job are high enough, and we don't need to lose more officers to toxic exposure. Whether it's risks associated with pulverized building toxins, fentanyl, or any other potentially lethal substance, we need to ensure that our law enforcement officers stay informed, stay prepared, and stay safe.