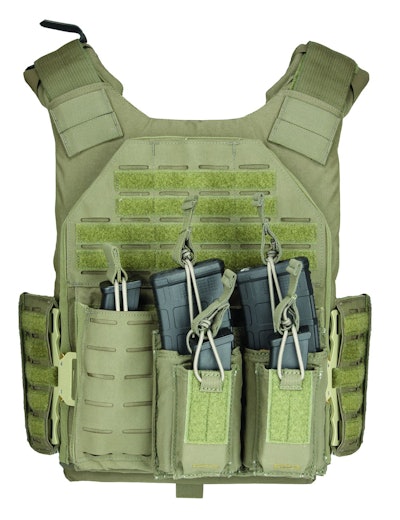 There was a time when companies that produce law enforcement armor would announce their newest products throughout the calendar year or at the International Association of Chiefs of Police (IACP) Show held each fall. Now most armor products are launched in January at the Shooting Hunting and Outdoor Trade (SHOT) Show in Las Vegas. SHOT has become the primary police show for products carried by officers or worn on their bodies.
Here's a look at the armor products that are expected to make their debut or be highlighted by the companies that make them at this year's SHOT Show held this month.
Armor Express
Michigan-based Armor Express plans to introduce two new products at the SHOT Show this month.
Armor Express' new Traverse Dress Vest overt patrol vest is configured in the company's Bravo cut. The company says the vest meets many departments' requirements with two dress pockets with faux button-down flap and pen slot, front zip-side opening design, and rear adjustable cummerbund with comfort stretch.
The Special Assignment Unit (SAU) Plate Carrier now features Armor Express' COBRA quick release technology. Armor Express says the SAU was developed with input from customers and after extensive field testing. The goal was to create a tactical vest that is streamlined, lightweight, and modular, the company says. Features include a removable cummerbund with accessory wrap, concealed side release buckle system, MOLLE or laser cut attachment systems, Quad Ventilation Liner system, drag strap, sling catch, front kangaroo pouch, and optional Peraflex Pouch Integration. www.armorexpress.com
ATS Armor
In recent years, hard armor has been getting lighter and more efficient. The latest shields from ATS Armor are examples of this trend. The company's IIIA Patrol Shield weighs in at just six pounds and stops pistol rounds up to .44 Magnum. Its Type III Tactical Shield can stop a variety of popular rifle rounds and weighs just 15 pounds. Both feature ATS Armor's proprietary handle system for easy maneuverability and ergonomic designs that maximize protection. www.atsarmor.com
Bulletsafe
Five years ago BulletSafe introduced a $299 NIJ Level IIIA vest. Originally, these vests were designed to be as concealable as possible. In 2019 BulletSafe is releasing a uniform-style external vest carrier. The BulletSafe Uniform Vest Front Carrier lists for $49. Bulletsafe says the vest carrier offers customers a professional appearance with darts, buttons, and pockets.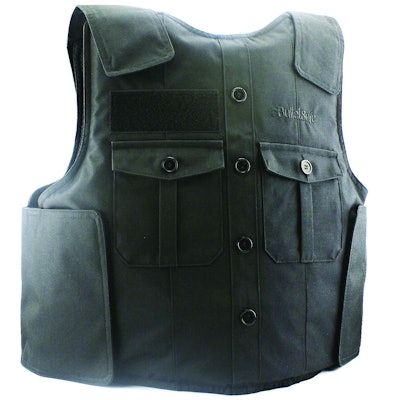 BulletSafe also offers a Tactical Style Front Carrier that features a MOLLE system for attaching accessories. The Tactical Front Carrier also lists for $49. Bulletsafe says if customers buy the company's NIJ Level IIIA vest and they receive the concealable carrier, then they can add the Uniform Vest Front Carrier and Tactical Front Carrier to have three different wear options for $397.
Bulletsafe President Tom Nardone says the company hopes to attract new customers by adding the Uniform and Tactical vest carriers. "We expect that both of these groups of people will be happy with our new changes. Both our company and our dealer network of over 200 stores look forward to keeping all of them safe," Nardonne adds. https://BulletSafe.com
Point Blank
The rapidly growing Point Blank Enterprises plans to showcase two of its tactical product lines—Paraclete and Special Ops Bunker (SOB)—at SHOT.
Paraclete is introducing the Special Response Vest (SRV) and the Omega hard armor plates for 2019. The SRV is ergonomically designed for maneuverability and can be adapted for a variety of tactical missions. Paraclete says the vest can be configured with a collection of additional protective accessories and pouches to make it suitable for a number of different law enforcement operations. The vest is easy to put on and take off, according to the company. Features of the SRV include: two-point adjustable shoulder straps, MOLLE compatible webbing, three-magazine retention inserts in the front flap and the back panel, and front and back hard armor plate pockets.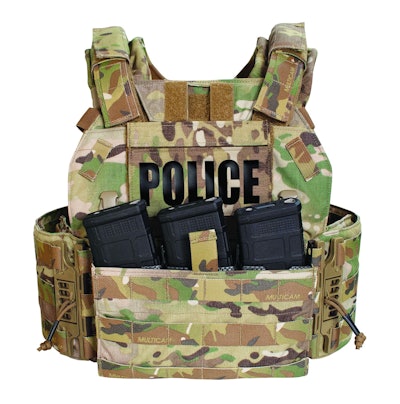 Speaking of hard armor plates, Paraclete is introducing a line of hard armor designed for use with soft armor during critical incidents. The company says its new Omega armor is lightweight and thin and offers NIJ Level III (rifle) protection when worn with Level IIIA or Level II soft armor. Omega plates are available in male and female cuts. Weight for the plates ranges from less than a pound to 2.1 pounds based on size.
SOB's new Tac-Wall is a modular shield system that offers NIJ Level III+ protection. The shields can be used individually or linked to form a freestanding wall. No additional hardware is required to link the shields. SOB says the concept behind the Tac-Wall is that officers can carry one shield each in their patrol vehicles and combine them if needed during a critical incident such as an active shooter attack. Single shield dimensions are 22x48 inches with a total armor area of 7.3 square feet per shield. www.pointblankenterprises.com
Propper
The latest armor product from Propper International is the Arc tactical ballistic carrier. Propper says the Arc's easy-on-easy-off quick releases on both sides were designed for fast donning and doffing of the armor during critical incidents, including active shooter response. Other features include: laser cut MOLLE all around, four panels of protection (instead of the usual two), expandable drag handle, Aspetto clips, and pockets for hard and soft ballistic plates. www.propper.com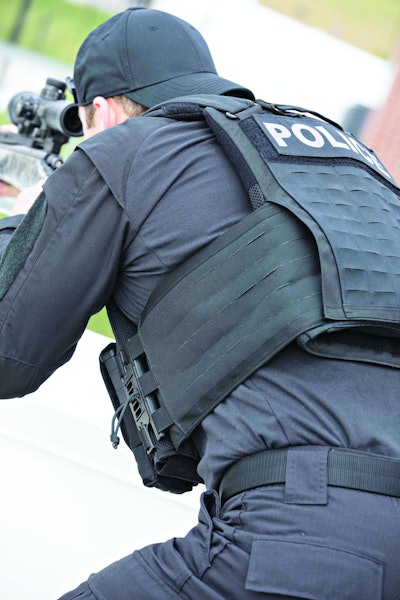 U.S. Armor
One of the top-of-the-line ballistic packages from U.S. Armor is the Enforcer 6000, which the company says weighs in at less than a pound per square foot for the Level IIIA, making it one of the lightest NIJ .06-certified vests. Flexibility was built into the panels with new types of aramid materials, and the panels' ballistic capabilities were created through layering of Honeywell Gold Shield and Spectra Shield and two different types of DuPont Kevlar.
U.S. Armor has mated the Enforcer 6000 with two optional carrier upgrades: the CuTec Copper and the Outlast Heat Management. The CuTec Copper carrier actually has copper thread sewn into the interior fabric that lies closest to the officer's skin to help prevent heat rash. The Outlast Heat Management uses a material found in NASA space suits to cool the wearer or warm the wearer, depending on conditions. www.usarmor.com