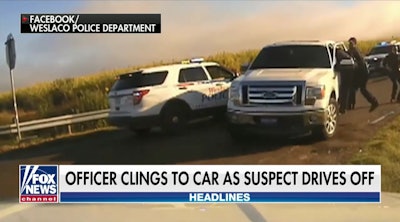 Authorities in south Texas are searching for a pickup truck driver who peeled away from a traffic stop on Sunday -- with a police officer hanging from the driver's side window.
The Weslaco Police Department said in a Facebook post the incident unfolded after officers received a report of a man who was asleep behind the wheel of a pickup truck that had the engine still running.
When officers confronted the man -- identified by police as 28-year-old Adan Loa -- he refused to turn off the truck and fled the scene with an officer hanging onto the truck, Fox News reports.
Loa has active warrants for burglary of a habitation, assault family violence and evading arrest, officials said.
"In his attempt to flee he struck a patrol unit and also injured a Weslaco Police Department Officer," police said.