Last year Hanes introduced a line of high-performance compression gear for wear by first responders who operate in cold climates. The TEC-Comfortgear Collection includes a tight, tank, sleeve, and socks.
Each item in the TEC-Comfortgear Collection features X-Temp moisture-wicking technology; slide-on technology for easy-on, easy-off wear; and advanced odor control. All four items in the collection are made of lightweight, breathable yarns with graduated compression. They also offer UPF 50+ sun protection.
To test these products, POLICE and Hanes sent samples to 10 officers of the Chicago Police Department who wore them on duty in the dead of winter. We asked them about comfort, functionality, what improvements they would recommend, and value. Here are their impressions of each.
Active Comfort Tight—All 10 of the testing officers rated the tight as comfortable. One added that he had worn other tights on duty and the Hanes product was thinner, breathed better, and wicked away moisture better. Several of the testers recommended that Hanes add a front opening for male wearers. The Active Comfort Tight retails for $17.99, and most of the reviewers said that was a good value.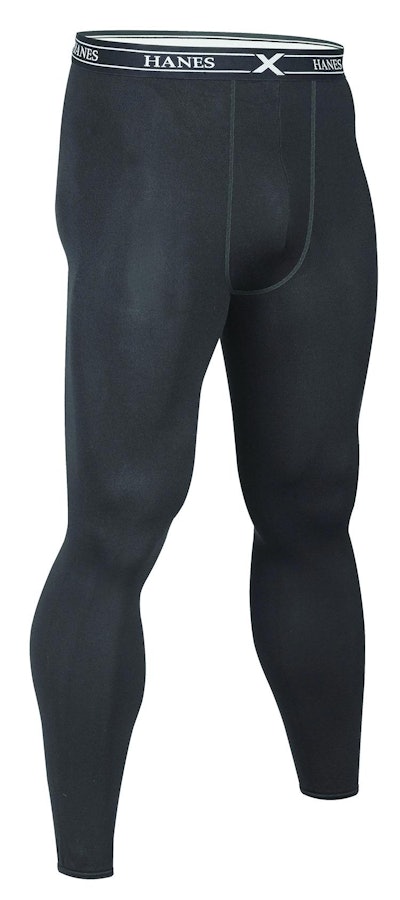 Active Comfort Tank—The Tank, like the other products in the TEC-Comfortgear Collection, is designed for comfort. In addition to the features shared by all the items in the collection, the Active Comfort Tank has mesh side and upper panels for ventilation and a longer back than other tanks, so that it stays tucked. Most of the officers who tested the Active Comfort Tank felt it was comfortable, but some said they don't like sleeveless shirts. However, opinions varied greatly. Another officer said he really liked that the Tank is sleeveless. As for improvements, one tester recommended that the Tank be even longer. Another said they wanted the tank to be warmer so they wouldn't have to wear so many layers of clothing on duty. And several testers said the Tank needed sleeves; of course then it would not be a tank. The Active Comfort Tank lists for $22.99. Some testers said that it was a good value at that price, but others said they would not buy it unless it was priced lower.
Active Comfort Sleeve—The Sleeve has the added feature of a ComfortFlex rib band that stretches to fit the wearer's bicep. Testers were divided on the comfort offered by the Sleeve; some praised its warmth and lightweight construction while another said it did not fit well under his uniform shirt. Others said they prefer sleeveless undergarments on duty even in the Chicago winter. The Active Comfort Sleeve lists for $11.99 for a pair. Most of the testers thought that was a good value, although they would like it to sell for less. One tester said he would buy one pair at that price, but would buy more at a lower price point.
Active Comfort Sock—Most testers said the Sock was extremely comfortable. One wrote: "The socks were definitely more comfortable than others that I have worn." However, one tester said the Sock was too thin and another said they were not warm enough. The Active Comfort Sock lists for $11.99 and is available in sizes 9–12. Most of the testers thought that was a good value.