Today's law enforcement officers conduct operations with certain strategies and equipment because of lessons learned in previous generations. Let's take a peek at articles that mark major law enforcement changes in March issues of POLICE 10, 20, and 30 years ago.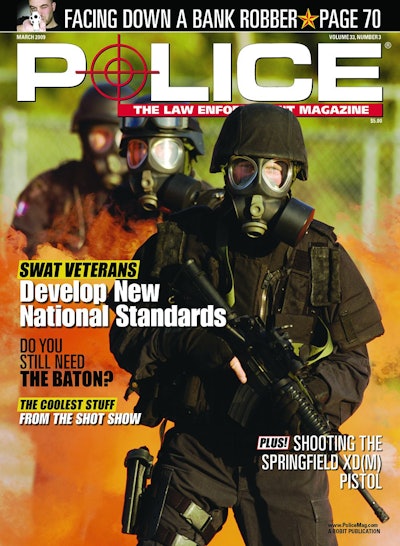 2009
Standardizing SWAT
The National Tactical Officers Association (NTOA) had just established guidelines for SWAT officers to follow on tactical operations when veteran SWAT officer Bob O'Brien explained in his article what they were and how they would affect officers. He wrote, "40 years after the creation of SWAT teams, the NTOA established the first-ever national SWAT standards. That's something that many SWAT practitioners and observers consider long overdue."
In 2015, the NTOA updated its SWAT standards and announced that "The new SWAT Standard has been renamed the NTOA Tactical Response and Operations Standard due to expansion beyond SWAT teams." This speaks to the evolution of incident response and the blurring of lines between tactical teams and patrol when it comes to not just who will respond to incidents but how and when.
While there is no formal national set of guidelines for tactical operations that all officers must follow by law, the NTOA and other organizations continue to update recommendations to improve law enforcement response as the concept continues to evolve.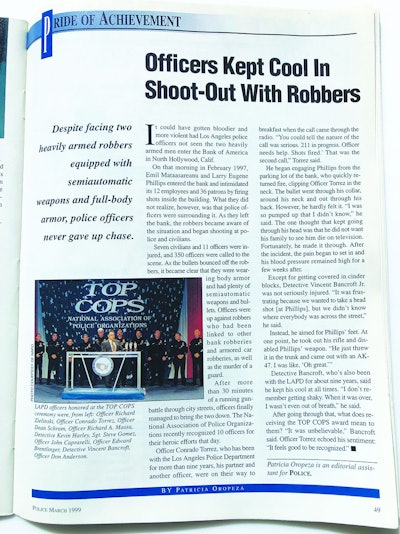 1999
Officers Kept Cool In Shoot-Out With Robbers
The North Hollywood Bank Robbery in February 1997 is still remembered for its impact on law enforcement tactics and equipment.
"Seven civilians and 11 officers were injured, and 350 officers were called to the scene. As the bullets bounced off the robbers, it became clear that they were wearing body armor and had plenty of semiautomatic weapons and bullets." The article goes on to say that the National Association of Police Organizations (NAPO) "recognized 10 officers for their heroic efforts that day" during the Top Cops ceremony.
Largely because of this televised and very public incident, law enforcement agencies nationwide recognized the need to equip more officers with long guns and armor-piercing ammunition so they would not be caught unprepared for a similar situation in the future.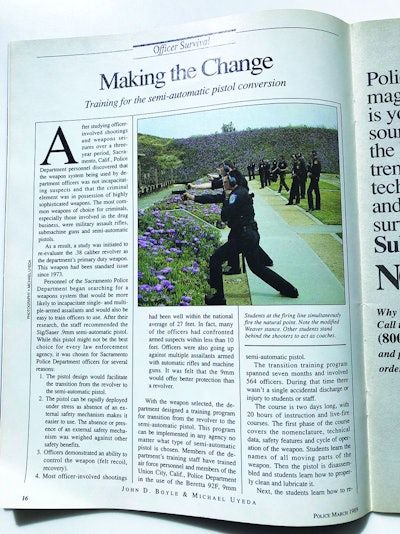 1989
Making the Change
In 1989, revolvers were still the standard duty weapon for many law enforcement officers. But that was about to change. The deck reads, "Training for the semi-automatic pistol conversion."
The Sacramento (CA) Police Department conducted a study and found officers' weapons were "not incapacitating suspects" and that criminals were using much more advanced weapons. "The most common weapons of choice for criminals…were military assault rifles, submachine guns and semi-automatic pistols," the article says.
Armed with this information, the department decided to transition from the .38 caliber revolver that had been standard issue since 1973 to a 9mm semi-automatic pistol. They determined this new weapon would be more likely to incapacitate single- and multiple armed assailants and would also be easy to train officers to use."
While it might seem elementary to today's officers, the article details how to properly draw and grip the weapon, with particular emphasis on finger placement.