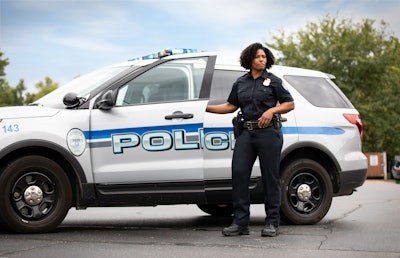 Today's officers want uniforms that are comfortable, durable, and extremely functional in a wide range of settings while providing a professional look. They want to be able to focus on the task at hand instead of the fit and feel of their uniform. And thanks to advances in fabric technology, law enforcement apparel manufacturers are up to the task. They continue to update their offerings to meet officers' wants and needs as they change over time.
According to Tru-Spec, law enforcement is looking for uniforms with comfort, stretch, moisture wicking, lighter weight, and a more tailored, low-profile fit.
"The main thing that we see and hear is that officers are looking for less tactical looking apparel. They don't want a military look, especially cargo pockets," says Joe Ruggeri, VP of Apparel Merchandising at Propper. "We've been designing around that, but still trying to give the wearer as much function as they would have with cargo pockets."
Color Trends
In the same vein, when it comes to uniform color, many law enforcement officers are going away from the tactical black trend that was popular for so long. In its place, agencies are adopting Ranger green, gray, and urban camouflage.
For tactical teams, "Ranger green is the trend," says David Hein, vice president of 5.11 Tactical's professional division. He says he sees many urban and rural agencies adopting this more tan green instead of the tactical black and olive drab or OD green that has been commonly seen on tactical officers for decades. According to Hein, 5.11 Tactical has added Ranger green as an option for more than 20 tactical products in the last 18 months to meet customer demand.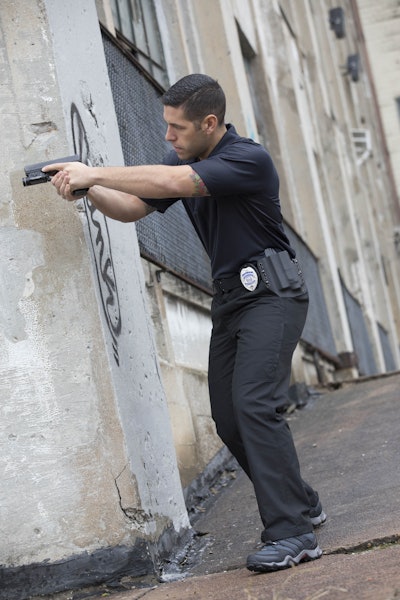 A representative from Tru-Spec says it's because Ranger green doesn't look quite like the military in the way olive drab does, and it's not as intimidating as black.
Gray is also gaining popularity in uniforms. "From an urban standpoint it performs well [as camouflage], and we see it growing," says 5.11's Hein. Adds Propper's Ruggeri, "I think people like it. And it's cooler than a black or navy, which is especially helpful during the summer." Newer urban camouflage prints are another option that has grown in popularity in recent years as black has fallen out of favor for tactical operators. However, for patrol uniforms, black and dark navy blue are still very popular.
Fitting the Female Form
While look is important, so is fit. And female officers now have options to address both concerns with women's apparel available in specific cuts and styles actually made to fit the female form. "Historically, companies have taken a men's uniform and just tweaked it a bit. But that's not how it works," says 5.11's Hein.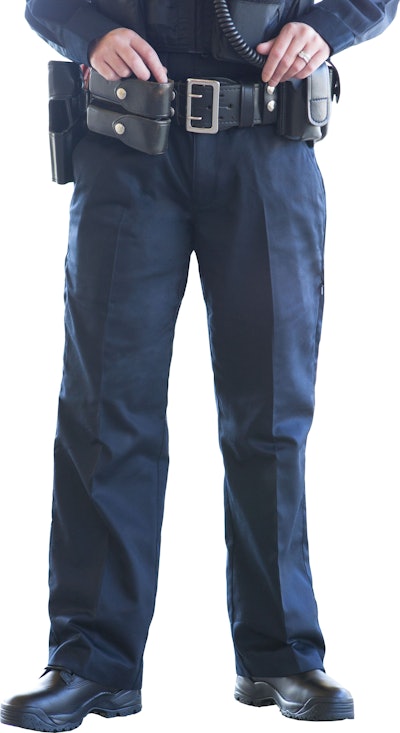 Some female officers still prefer to wear male uniforms, but that's less common now because there are so many female fits available that are comfortable and look professional. Features include stretch fabrics that stretch in the right places, waistbands that are curved instead of straight, and cuts that are looser in areas like the hips and thighs but don't bag in other areas like the crotch.
Angela Milligan of Fechheimer's Flying Cross brand says a team gathered data about what female officers liked about men's pants and what they didn't like about women's pants and came up with the ProX Signature Fit, described as the "premium women's fit." Milligan explains, "It's just the cut that's different. It's not a specific fabric. With a great fit, it can blend into different fabrics," which is why it is now available in all Flying Cross uniform lines.
One issue that men don't encounter as often is needing to remove all their gear so they can sit down to use the toilet. Women encounter this every time they need to use the restroom, without the option of standing up. So 5.11 Tactical developed the PDU Go Pant. "It's got a drop tail in the back of it," says Hein. "We incorporated a zipper across the back yoke and back of the leg, and it works absolutely phenomenally." Now this design is available in a wide range of 5.11 Tactical pants for female officers.
Fabric Features
Fabric for all officers' uniforms is expected to do more than it used to. Officers want stretch, odor control, cooling effects, color fastness, durability, and ease of care. Manufacturers have been able to incorporate these attributes largely without visibly altering the professional look of the uniform.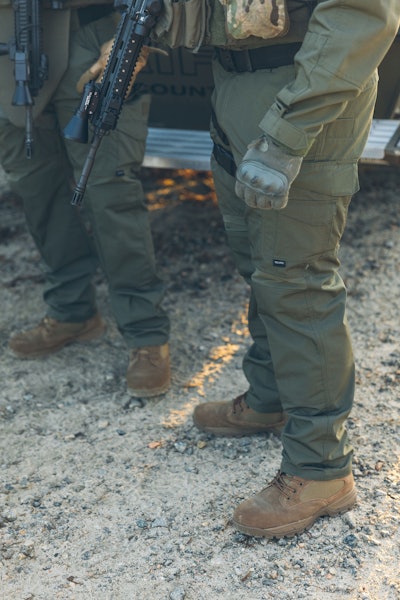 A newer expectation of uniform fabrics for law enforcement is fire resistance. "If an officer is walking into a drug house and an explosion goes off, you want their uniform to not melt and drip on that officer," says Hein of 5.11. While the general technology has been around for a long time, he says there is more demand for uniforms to be made of fabrics that incorporate no-melt, no-drip technology, as well as fire-resistant fabrics.
Flying Cross is seeing more demand for fire-resistant, or FR, fabrics from law enforcement as well. Milligan says because some officers serve both fire and law enforcement functions, there's a growing need for flame-resistant apparel. This is why Flying Cross created its new Professional FR line, which includes a woven shirt and pants as well as a polo and T-shirt. They feature VaporCore to adjust to the wearer's temperature, and fabric technology that creates a softer "hand" or feel, in contrast to the rough flame-resistant fabrics that officers may have encountered in the past.
In the future, we may see technology embedded in uniform fabric that can monitor officers' vital signs, for example, but that's not currently available for law enforcement officers. For now, uniforms feature tabs to attach the technology officers wear such as body cameras and hidden channels to invisibly secure the wires needed for the technology to work. And uniform manufacturers will continue to change with the times.
Melanie Basich is managing editor of POLICE Magazine/PoliceMag.com.