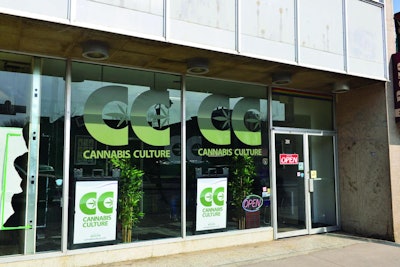 No matter what side of the cannabis debate a Californian is on, chances are he or she has heard of Siskiyou County Sheriff Jon Lopey.
Lopey's publicly waging war on California's illegal cannabis operations, and as he does, he's fighting the charge against legalization in general. It's been nearly a year and a half since the Golden State legalized recreational marijuana, but law enforcement officials, like Lopey, say they're seeing the unlicensed, illegal cannabis market thrive, and even grow, across the state.
This is the opposite of what proponents of Proposition 64 declared the legalization of marijuana would do. Advocates believed legalizing recreational marijuana would reduce crime. And, in some ways, this is true; dealing in cannabis was once considered a crime, but it's now a legitimate and lucrative business and viable career option complete with benefits.
The Dark Side
But there is a dark side to this booming business. Though proponents of legalization argued the black market would dry up as legitimate cannabis businesses opened their doors, this has not been the case in California, or in other states where it is legal, such as Colorado, Alaska, Oregon, Maine, Massachusetts, Nevada, and Washington. Trinity County, CA, undersheriff Christopher Compton reported in "Ending Weed Prohibition Hasn't Stopped Drug Crimes," in the Jan/Feb 2019 issue of The Atlantic, "We haven't seen a drop, in crime, whatsoever. In fact, we've seen a pretty steady increase." His counterpart in Mendocino, CA, Matthew Kendall, agreed, telling The Atlantic, "We're seeing more robberies and more gun crime."
Matt Carroll, retired police officer from the Port of Sacramento Police Department and owner of Carroll Security Consulting, a firm that helps licensed cannabis operations secure their premises, reports these comments are not surprising; criminals are attracted to the cash and crops of these legitimate businesses. He explains, "You're dealing with a product that was born and raised in a black market, and these crime networks are very established. While cannabis is legal in California, and sells for approximately $1,500 a pound, if you take that same pound to a state where it's illegal, it's just tripled in value."
Heavy taxation of licensed cannabis operations makes it more attractive to operate illegally, or even divert a portion of legally grown and manufactured products to the black market. California collected $345 million in excise and cultivation taxes in 2018. Colorado subjects recreational cannabis businesses to a 2.9% state sales tax, a 15% excise tax, and 10% special sales tax as well as local taxes in some communities.
Patrick Chown is president of Safe and Sound Security, a California security business that helps licensed cultivators, retailers, and dispensaries secure their businesses. He says he sees plenty of white market business owners trying to do the right thing, but heavy taxation is making it hard for them to make ends meet. "Because of the taxes and the money they spend on compliance, some operations choose to stay in the black market, while those in the white market often sell some of their product illegally to stay afloat," he says.
Dipping profits and high taxation are leading to the most shocking truth of all—at least in California, reports Lopey. Of the approximately 14 million pounds of marijuana grown in California annually, less than 20% is consumed in California. The remainder crosses state lines via illicit drug trafficking operations, moving its way East. Drug cartels continue to grow illicit cannabis crops in northern California, while southern California is a haven for illegal delivery services and pot dispensaries.
"It is totally out of control now," states Lopey. "There is an illicit and a legal industry operating in the state now."
While cannabis' black and gray markets continue to thrive, there's a movement afoot to legalize the drug at the federal level, which Lopey believes is a recipe for disaster. "We are pushing back against the marijuana industry. There are some cannabis operations that try to do it right, but by its nature it's a very corrupt industry," he says.
He predicts federal legalization will continue to escalate crime rates, increase addiction numbers, and put citizens and law enforcement officers at risk. He is entreating law makers to up federal funding for enforcement efforts, increase funding for D.A.R.E. programming for kids and for addiction treatment centers, and he is demanding that the federal government become a more active partner in enforcement activities.
"People ask me why I care so much about marijuana. They'll ask, 'Aren't opioids, meth, or fentanyl worse?'" Lopey says. "Of course, they are. But in my county, I don't have 1,500 illegal drug traffickers dealing in meth."
Use Increases and Impacts
Over 35 million residents call the state of California home. The state is also home to the Hollywood Walk of Fame, the Golden State Bridge, Napa Valley, breathtaking national and state forests, and miles of coastal beaches. But all that glitters is not gold in the state sometimes called El Dorado. It also stands out for its recreational marijuana use, ranking No. 10 in the nation. Other states with legalized laws also rank toward the top for marijuana use: Alaska (No. 1), Colorado (No. 3), Massachusetts (No. 5), Oregon (No. 6), Maine (No. 9), and Washington (No. 11).
Marijuana use across the country is prevalent—even in states where the drug is illegal. The annual National Survey on Drug Use and Health, from the Substance Abuse and Mental Health Services Administration, finds approximately 26 million Americans, ages 12 and older, report using marijuana and that 2.6 million young adults report using the drug daily. Lopey adds, "There are an estimated 337,000 new addicts annually."
Legalization, reports Lopey, has been shown to increase marijuana use. "Since legalization in Colorado, addiction rates among adolescents have increased 17%, use has increased by 65%, and calls to poison control have increased substantially," he emphasizes.
Combined with the greater potency of today's marijuana, these numbers are cause for concern. "Today's marijuana is more addictive than the marijuana of the past; this is not your parent's pot," Lopey says.
The amount of delta-9-tetrahydrocannabinol, or THC, that marijuana contains determines its potency. THC is the compound that gives the drug its psychoactive effects. Studies find THC levels have increased from around 4% in 1995 to up to 39% today. In addition, concentrated forms of cannabis, such as hash and hash oil, present even greater risk. They may contain as much as 80% to 90% THC.
As its potency rises, law enforcement officials report they are seeing more psychotic-type reactions to the drug while on duty, especially after someone ingests a high quantity of THC-containing edibles. This puts the public and officers at risk, reports Lopey, who suggests marijuana-induced psychosis can lead to active shooter situations and other violent acts against citizens and police.
"Colorado's Legalization of Marijuana and the Impact on Public Safety" reinforces Lopey's warnings. The document reports edibles are raising concerns among health officials and police because it's unclear to those who ingest them what their potency levels are. The document concludes, "Due to the increased toxicity, medical and police professionals have seen an increase in adult psychotic episodes resulting in hospitalizations and deaths by suicide or homicide."
Lopey suggests the plan of attack here begins with widespread implementation of the new D.A.R.E. program, which he calls outstanding. He says, "We need to put more dollars into this prevention program to show young people how harmful marijuana use is. The younger they start using it, the more damaging it is. We need to stop marijuana use before it starts."
He also advocates for more treatment programs centered on marijuana abuse. "We need funding for these programs, and for additional research about the impacts of marijuana use," he says.
Environmental Impacts
There's an area in California known as the Emerald Triangle, which is a 10,000-square-mile tract that includes Humboldt, Mendocino, and Trinity counties. The region's moniker comes from its notoriety as the largest cannabis-producing region in the United States. It is estimated that nearly 60% of the country's marijuana is grown here. Though Siskiyou County lies slightly outside the Emerald Triangle, its problem with illegal grows rivals that of its neighbors.
Though California legalized licensed marijuana grows, Lopey reports not all growers want to operate legally. Though the region has nearly 32,000 farmers, he reports only 3,500 or so are licensed. In his county, Lopey estimates there are 1,500 illegal grows. The problem, he says, is very real. In 2018, the year following the legalization of recreational marijuana, the California Department of Fish and Wildlife seized twice as much marijuana and destroyed 700,000 more plants than the year before.
To combat this phenomenon, the State of California is working with the National Guard, Drug Enforcement Agency, and other federal enforcement entities to wipe out illegal grows. But more of these efforts are needed, reports Lopey. "To curtail these illicit operations, we need a concerted effort that involves federal, state, and local authorities," he says.
Likewise, officers need protection as they enter these illegal grow sites, adds Lopey. If the marijuana is being grown inside, there exists the potential for exposure to toxic mold, high THC levels in the air and on surfaces, and potentially hazardous carbon dioxide levels. Law enforcers also may come in contact with extremely toxic pesticides, such as Carbofuran. Law enforcement officials must don personal protective gear, such as eye and face protection, chemical-resistant gloves and clothing, etc., before entering illegal grow sites. Funding is needed, adds Lopey, to ensure agencies have the gear they need.
For licensed growers trying to do the right thing, the challenge becomes securing their crops from nefarious sources bent on stealing it. Carroll explains that drug cartels that once grew crops in remote areas and harvested them annually are finding that robbing licensed growers of their products and profits is far less labor intensive.
"When you head into some of these rural areas, these guys are outlaws. They've been doing this for so long they don't want to do it any other way," Chown adds. This fact creates a need for heightened security around licensed grows, which can be challenging in rural areas, where electricity, internet access, and cellphone communication is limited.
Some counties are mandating that despite the challenges, licensed operations provide greater security than what the state requires. Yolo County, for instance, after experiencing a rash of burglaries at commercial grow sites, finally told growers they had to do something more. "When they asked, 'What can we do?' the sheriff told them, 'You need to be secure.' We don't want you to get robbed again because we don't want your product back on the black market. When someone robs a licensed business, they intend to take it to the black market," Chown stresses.
Carroll advocates for greater security as well around licensed cannabis businesses and grow sites. "We treat them like they're selling cigarettes or alcohol, but it's not the same thing," he says. He holds up Benicia, CA, as a model for its efforts. When this city of nearly 27,000 decided to allow commercial cannabis operations within city limits, local officials partnered with the fire and police departments, the building department, and other stakeholders to develop a permitting process that ensures hardened security that exceeds what the State of California currently requires for these businesses.
"People have the opportunity to sit down and get help from all of these departments and the city pays for them to have a security consultant develop their security plan," Carroll says. "In most cities, however, there is no oversight. They just fill out an application that shows they meet the minimum of security requirements, pay their fees, and they're licensed."
When it comes to the legalization of marijuana, there are no easy answers, especially since the true impact of legalization isn't yet known. But Lopey stands firm on one fact, "The federal government needs to maintain its stance on marijuana. We are not going to be able to curtail these problems if it does not."
Ronnie Wendt is a freelance writer based in Waukesha, Wisconsin. She has been writing about law enforcement for two decades.