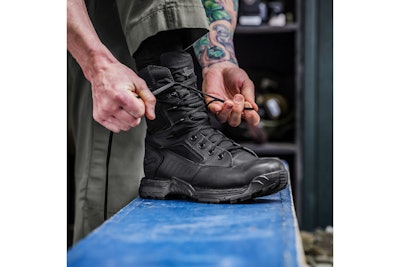 In my 15 years of badge-wearing, gun-toting work I've blown through more pairs of duty boots than I can count. I couldn't tell you the names of even half of them, but I can tell you which ones lasted the longest and they were all Danners. My first pair of classic Acadias lasted years and the few others I've had since all stood the test of time. One of their newest models, the Striker Bolt, arrived at my doorstep a couple months back and I knew immediately they were unmistakably Danners.
One of Danner's first ventures into the athletic duty boot arena, the Striker line recently celebrated its 10th birthday. With a blend of traditional leather uppers and durable yet athletic soles they have become a favorite amongst many of today's officers. The new Striker Bolt retains all of the best qualities of the Striker heritage with a few modern enhancements.
Danner's Terra Force (TFX) platform is found throughout the Striker line and combines a Vibram sole with an internal and external shank to provide excellent support and comfort without sacrificing durability and traction. The Bolts feature the next generation of this platform, appropriately dubbed the Terra Force NEXT, which increase durability, torsion control, and arch support while reducing the weight. The soles are wide and to say the slip-resistant tread on the Bolts is aggressive is an understatement.
DANNER STRIKER BOLT 8" DUTY BOOTS SPECS:
Upper: PU coated, polishable leather and nylon
Lining: Waterproof
Liner: Gore-Tex
Outsole: Vibram Striker Bolt
Weight: 61 ounces per pair
Height: 8 inches (8" sidezip, 6", and 4.5" models also available)
Color: Black
Price: $220
Moving up the boot, the body, toe, and heel caps are all made of high-quality double-stitched leather that is thick yet soft. The lace eyelets are robust and the laces themselves have plenty of length for adjustment. There's even a "lace garage," a pocket at the top of the tongue to stow laces away so they don't get snagged on the go. The rest of the body is made up of clean nylon panels that not only enhance the breathability of the boot but also add to its handsome appearance. And speaking of breathability, the Bolts are lined completely with GoreTex to keep your feet cool and dry all shift.
In my current assignment I spend zero time in a uniform but that didn't stop me from wearing uniformed boots to work; these Bolts were just too nice. Right out of the box they were incredibly comfortable; soft and well-cushioned but with solid rigidity in all the right places. They laced up tight and provided excellent ankle support as well. Weighing in at a hefty 31 ounces per boot, the Bolts are lighter than most traditional boots but not meant to compete with today's athletic shoe "boots" popular with officers today. These are real boots designed to last. Unlike some of its traditional brethren, the Bolts can't be recrafted when you wear through the soles but you likely won't have to worry about that for many years.
The new Danner Striker Bolt boots are available in 4.5-inch, 6-inch, and 8-inch models with a sidezip option on the latter. MSRPs put the Danner Bolts near the top of the price spectrum for duty boots, but their quality, comfort, and durability make them an absolute bargain. Take a look for yourself at www.danner.com.
A.J. George is a sergeant with the Scottsdale (AZ) Police Department who is assigned to the Technical Operations Unit, Special Investigations Section. He has more than a decade of law enforcement experience in patrol, field training, and traffic enforcement.