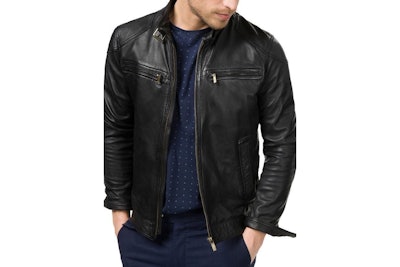 Launching this month, Innocent Armor LLC has developed and dedicated an entire company to providing bullet-resistant everyday clothing for law enforcement officers and other customers. Officers can wear the clothing when ballistic vests are impractical and/or will blow their cover.
Mike Wang, Innocent Armor LLC's president and CEO, says the company was created in response to the number of recent mass shootings in the United States, as was its sister company First Responder Technologies, which is working to develop weapon detection systems to prevent or mitigate active shooter attacks. (See "Detecting Weapons with Radio Waves," POLICE September 2019.) Wang says both companies are part of the portfolio of Bullrun Capital, a venture capital group established by retired Royal Canadian Mounted Police Officer Kal Malhi. Several of the companies in the Bullrun stable are working on solutions to improve public safety. Some are based in Canada and some in the U.S.
According to Wang, Delaware-based Innocent Armor LLC will be making a variety of Innocent Armor-branded products with bullet-resistant armor panels, including jackets, shirts, coats, vests, and backpacks. "What we're trying to do is provide a premium brand of clothing that is bullet resistant. There are already some companies in this market but we plan to do this on a national level," he says.
Innocent Armor's clothing lines will include garments for both men and women. "We hope to run the gamut of everyday clothing for both men and women. But right now we're limited on the women's clothing line," Wang explains. "We have a couple of down vest styles and we have a leather jacket for women. I think our women customers could wear the fitted T shirt too."
Wang says a well-known maker of ballistic protection materials is producing the armor panels used in the Innocent Armor clothing. Innocent Armor is calling the material ShieldTec.
ShieldTec is an ultralight, extremely resilient bullet-resistant fabric, according to Wang. "Think armor without the weight. It's protection without being obvious. And it is security for the unexpected," he says.
Innocent Armor's clothing will feature NIJ Level IIIA or Level II panels. The soft trauma plates could also be replaced with hard armor plates for rifle protection. Of course, that makes the clothing considerably heavier.
Fitting an average men's suit jacket with the Level IIIA soft armor adds "about five to six pounds," Wang says. "The fitted T shirts are sleeveless and designed to be worn underneath a suit or casual clothing. They weigh about four pounds compared to a regular T shirt."
Wang believes the company's Level II clothing may be the most popular with some of its potential customers. "The Level II is lighter and more comfortable," he explains. "It's more flexible, so some people may be willing to have a little less protection in return for better comfort." He adds that the Level II ballistic panels can protect against most common handgun rounds.
Prices for Innocent Armor's apparel range from $360 to $750. Wang says the leather jackets will sell for $750, while the fitted T shirts will sell for $360.