Because many law enforcement operations are conducted at night or in dark places even during daylight hours, lighting tools are critical to the mission. Officers carry portable lighting on their belts or in their pockets in the form of flashlights. They carry lights on their weapons. And some carry area lighting in the cargo areas of their patrol vehicles.
Portable area lighting comes in two versions, batter-powered and generator-powered systems. The primary applications for these systems in law enforcement operations include: accident scenes, crime scenes, DUI checkpoints, and search and rescue. Some of the leading manufacturers of these tools are Pelican Products, Powermoon, and Tele-Lite. Here's a look at the lighting systems and how they are used by law enforcement.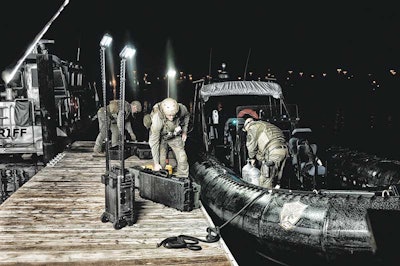 Pelican
Pelican decided to get into the portable area lighting market years ago when the company's leaders realized its hard plastic cases could make an ideal platform for such a system. According to Scott Jones, Pelican's director of product development, the company now makes a dozen different portable area light systems. "Customers can choose from single-head, dual-head, four-head, and tripod systems," he says.
Pelican's most popular portable area light model for law enforcement operations is the 9460, a dual telescoping light head system that features a rechargeable battery. Each of the 9460's LED light heads produces 6,000 lumens. The system comes in a wheeled Pelican case for storage and easy transport.
"The benefit of having multiple heads is that you can direct the light in different places and cover a larger area," says Jones. "With two heads you can run them back to back and light up essentially a 360-degree area. With four you can set them all up at 90-degree angles and light up a large space focused on a central point."
Runtime for the 9460 is variable and determined by how bright the user wants the light to be. The output level of the light can be set through a smartphone app available for both Apple and Android. The system is Bluetooth enabled and users can actually set the amount of time they anticipate they will need the light and it will automatically adjust the light output to provide that amount of time.
If the user needs more runtime, the battery can be swapped out while the system is in operation. In addition to providing power for the lights, the battery in the 9460 can be used to charge smartphones, tablets, laptops, and other rechargeable devices. Jones says using the 9460 as a device charger has no noticeable effect on runtime. In addition to operating on batteries, the 9460 can be plugged into a generator or a power outlet.
Jones says that law enforcement buyers of the 9460 have found numerous uses for the system, including SWAT standoffs, DUI checkpoints, crime and accident scenes, and search-and-rescue operations. Some agencies are even using the system on their shooting ranges so they can remotely adjust the amount of light during the training.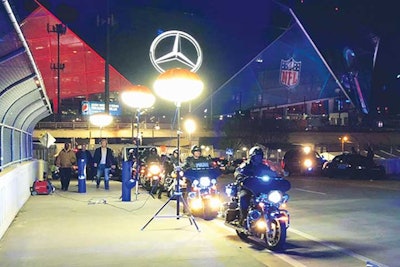 Powermoon
The balloon lighting systems from Powermoon may be some of the most unusual area lighting systems on the market. They consist of LEDs inside a rugged fabric "balloon" that is set up on a stand, and they look something like illuminated mushrooms.
Jaanus Rattasepp, Powermoon's chief business and brand development officer, says the lights are extremely versatile in law enforcement operations like DWI checkpoints, accident scenes, and at crime scenes. Powermoon's products are particularly useful for forensics teams working outdoor or indoor crime scenes. The no-glare, diffuse nature of the light is well suited to evidence photography and videography. "Taking photos is so much easier and more realistic than with just a flash," one crime scene investigator told Powermoon.
Rattasepp says the Powermoon lights have a number of features that make them useful in public safety operations. They are "daylight" bright for 360 degrees, relatively lightweight, high efficiency in that three towers can run on one Honda generator, they set up in as little as one minute, and the light they provide is glare free and shadow reduced.
Powermoon says its top sellers for the law enforcement market are the LEDMoon 600 and the SL 2000 LED. The LEDMoon 600 is named for its total output of 600 watts; it has a light output of 75,000 lumens, and weighs 25 pounds. The SL 2000 is less powerful. It has a total output of 320 watts, a light output of 48,000 lumens, and it weighs 20 pounds.
Tele-Lite
For 45 years Tele-Lite has been producing remote area lights that integrate Honda generators for power. Kevin Steeves, president of Tele-Lite, says the company's most popular products for the law enforcement market are the TEU-1000DB, TEU-2200DB, and the Nova-Lite.
Tele-Lite's TEU models are relatively lightweight systems. Steeves refers to them as "big flashlights on generators." The TEU-1000DB produces 500 watts of lighting and is powered by Honda's EU1000i inverter-style generator. Another TEU that Steeves says is popular with law enforcement is the TEU-2200DB. The TEU-2200DB is powered by Honda's EU2200i and produces 500 watts of lighting. Both TEUs are available with either quartz halogen or LED lights, they fold for compact storage, and are hand portable.
In contrast Tele-Lite's Nova-Lite is not hand portable. This 140-pound system is mounted on a wheeled handcart-style frame. It features a Honda 3,000-watt generator with GFCI. The generator powers two 500-watt telescoping lights with either quartz halogen or LED heads and two 500-watt portable lights. The telescoping lights can be raised up to 82 inches, rotated, and angled.
Steeves says that in addition to the lights built into the Tele-Lite systems, users can run extension cords off of the generators to power even more lights. "You can run up to six lamp heads or six portable lights or tripods off of a 1,000-watt generator," he says.
At a major night accident, Steeves says the officers working the scene could use the smaller TEU model lights when they first arrive. "They can be put into operation really fast," he explains. "Then if the scene work becomes extended, the officer can call for the much more powerful Nova-Lite."
Steeves says that in addition to accident scenes, police are using Tele-Lite's products for crime scene, DWI checkpoint, and other extended nighttime operations. One agency that he knows of is even using a Tele-Lite for a community event. "They have a Halloween event out in a field. It's a maze and they needed to have portable lighting. So they are using a Nova-Lite," he says.