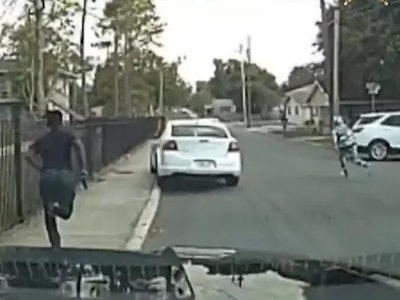 A Lakeland, FL, police officer was shot in the foot during a pursuit on Wednesday evening. Police say the suspect was a 13-year-old boy, who was also shot.
Lakeland Police Department Chief Sam Taylor said officers got a call about reports of a drive-by shooting at around 5:16 p.m.
An officer who was in the area saw the vehicle and attempted to stop it. Chief Sam Taylor said there was a short pursuit but the three people in the vehicle eventually fled on foot.
One of the suspects, identified as a 13-year-old boy, was spotted running with a gun in his hand.
Taylor said the officer engaged in a foot pursuit and told the teen to drop the weapon several times.
As the officer rounded a corner, Taylor said the 13-year-old was waiting for him and fired at least one round at the officer. The officer was struck in the foot but continued to pursue the teen, WFLA reports.
Taylor said the 13-year-old was shot several times by the officer. He was taken to Tampa General Hospital. The officer was taken to Lakeland Regional Health Medical Center. Both the officer and the teen suffered non-life-threatening injuries.
Polk County Sheriff Grady Judd said the 13-year-old was arrested back on Jan. 1. He said a deputy risked his life to take a stolen gun off of the 13-year-old. The boy was given probation.