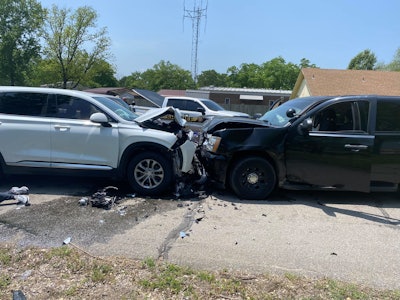 A Sallisaw, OK, police captain crashed his patrol SUV into a pursuit suspect's vehicle head-on, preventing him from getting near a crowded festival on Saturday.
Police were following the driver when he got near a crowded area where children were attending the Diamond Daze Festival, according to a City of Sallisaw social media post.
Sallisaw Police Captain John Weber used his patrol vehicle to crash into the driver, stopping the pursuit of the suspect who reportedly fled from a traffic stop on I-40, Fox 23 reports.
Sallisaw Police Chief Terry Franklin gave more information about the chase on social media.
He said on Saturday Weber and Officer Wesley McGuirt were working when they got information about a pursuit headed towards the city.
Franklin said the suspect vehicle was traveling very fast and ended up going towards the Diamond Daze festival.
"Captain Weber and Officer McGuirt were the last line of defense before the suspect vehicle would have enter the Diamond Daze event area," Franklin said, later saying that the vehicle going into the event would have caused "massive casualties."
Weber suffered a broken wrist and McGuirt had cuts and bruises from the crash, according to Franklin.