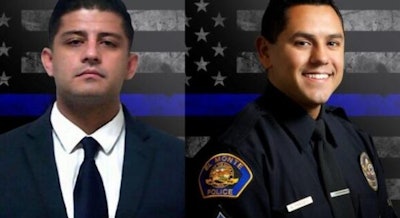 The family of slain El Monte, CA, police Officer Joseph Santana has filed a wrongful death lawsuit against Los Angeles County District Attorney George Gascón, claiming that his disregard for California's "three-strikes" law enabled a convicted felon to commit the 2022 double homicide that also claimed the life of another officer.
The suit, filed Wednesday, May 3, in Los Angeles Superior Court by the officer's wife, Sasha Santana, along with his three children and parents, also names the county Probation Department and Siesta Inn in East Los Angeles as defendants. It seeks unspecified monetary damages. the Whittier Daily News reports.
"Gascón and the probation department need to be held accountable for their failures that resulted in Joseph's death," Santana's family said in a statement.
On June 14, 2022, Santana, 31, and El Monte police Cpl. Michael Paredes, 42, responded to a report of a stabbing at the Siesta Inn. Both were shot and killed by 35-year-old Justin Flores of Whittier, a documented gang member with a lengthy criminal record. Flores died after shooting himself with Paredes' service weapon.
Gascón's "ill-advised policies" and a probation officer's inaction played a major role in the deaths of Santana and played a major role in the deaths of Santana and Paredes, David Ring, an attorney for Santana's family, said Thursday.
Corporal Paredes widow has also sued the DA. That suit was filed in November.