Two police officers were shot and killed Monday afternoon in the line of duty in the Los Angeles County city of El Monte, CA.
Investigators said the two officers, Corporal Michael Paredes and Officer Joseph Santana, were ambushed by gunfire from inside a motel room as soon as they arrived at the Siesta Inn, KTLA reports.
The gunman was also shot and killed at the scene, according to the Los Angeles County Sheriff's Department, who is helping El Monte PD with investigations, Fox LA reports.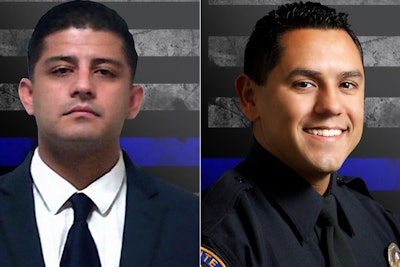 Corporal Paredes, 42, is survived by his wife, daughter and son.
Officer Santana, 31, is survived by his wife, daughter and twin boys.
The suspected shooter was identified as Justin William Flores by his mother Wednesday morning.
LA Superior Court records show Flores was sentenced in February of 2021 to 20 days in jail and two years probation after he pleaded no contest to a charge of being a felon in possession of a firearm following an arrest in March of 2020, NBC Los Angeles reports.
Prosecutors dismissed two other counts when Flores entered the plea; one for being a felon in possession of ammunition and another of being in possession of methamphetamine.