A New York woman claimed a rough arrest by New York State police caused her to miscarry in her third trimester — but the shocking allegation has come into question after the department released bodycam footage of the incident, the New York Post reports.
Quashaia Oranchak, who was six and a half months pregnant, accused the agency of "bodyslamming her on the hood" of the cruiser during a March 20 traffic stop arrest in Binghamton — just hours before she rushed into an emergency C-section and delivered a dead child.
The footage, however, shows the arresting officer shows the officer grabs Oranchak's arms behind her back and pushes her near the rear side of her car, but not fully up against it — refuting her claims she was bodyslammed on the hood.
The video also shows the officer repeatedly confirming his intention to take care of her.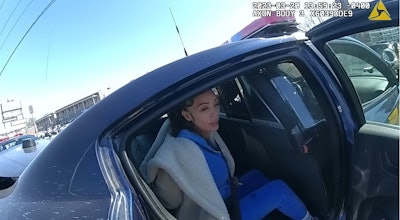 "We have a situation that we're in right now, but at the end of the day — like I told you before — I'm a reasonable guy. I see that you're pregnant. If you're not good, you need to let me know because you're in my custody now. Your well-being is part of my responsibility," the trooper told her.
After Oranchak asks for something to drink twice because of her pregnancy, the officer walks back to her car and retrieves her water bottle, which he then holds for her to drink.
Oranchak was charged with drug possession and fleeing an officer and transported to Broome County Jail, where she was found unresponsive six hours after her arrest.
State police stated they are not to blame for the unborn child's death, and said in a press release that a "quantity of fentanyl and methamphetamine was located secreted" in Oranchak's body.