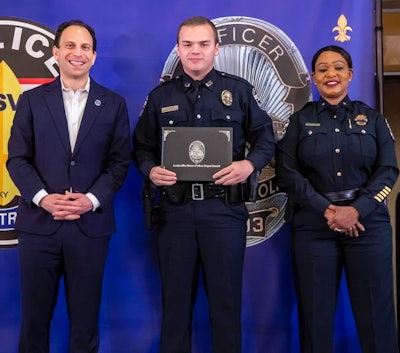 Four people and the suspect were killed and nine others injured during an active shooter attack at Old National Bank in downtown Louisville, KY, Monday. One of the injured was a responding Louisville Metro Police officer who was reportedly shot in the head.
LMPD Officer Nickolas Wilt, 26, was critically wounded in an exchange of fire with the suspect. The wounded officer was rushed into brain surgery, according to Interim LMPD Chief Jackie Gwinn-Villaroel. Officer Wilt is stable after the surgery, the chief said. "The next few days are important and very critical for Nickolas's recovery," she added.
Two other LMPD officers were injured in the attack. The chief said one had minor injuries and the other was "grazed."
The 23-year-old suspect, identified as an employee of the bank, was killed in a gunfight with police.
Officer Wilt just graduated from the police academy March 31. Before becoming an officer, Wilt worked for Oldham County Emergency Medical Services, the La Grange Fire Department, Oldham dispatch and Henry County EMS.
The first reports of the shooting came in at 8:30 a.m. Police spokesman Col. Paul Humphrey said the first responding officers arrived within three minutes of the initial reports to hear the sound of gunshots from inside the office building, WDRB reports.