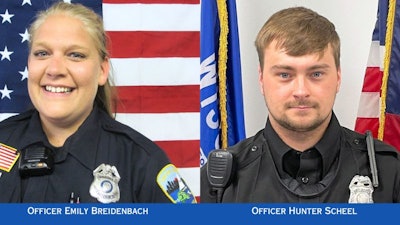 Two Wisconsin police officers and a suspect were killed in a traffic stop shootout Saturday afternoon in the Village of Cameron.
The fallen officers have been identified as Chetek, WI, Officer Emily Breidenbach and Cameron, WI, Officer Hunter Scheel.
At approximately 3:38 p.m., Chetek Police Officer Emily Breidenbach, age 32, with approximately five years of law enforcement service, along with Cameron Police Officer Hunter Scheel, age 23, with approximately one year of law enforcement service, conducted a traffic stop in the Village of Cameron. The officers made the stop based on a warrant and to check the welfare of the driver, Glenn Douglas Perry, age 50, following notification of concerning behavior. During the traffic stop, gunfire was exchanged, the Dryden Wire reports.
Officer Breidenbach and Officer Scheel were pronounced deceased at the scene. Perry was taken to a hospital where he later died.