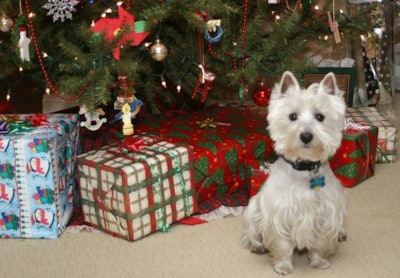 It's that time of year again. The time of trying to find just the right gift for your family in blue. For the last six years I have served on the police department and I have received countless police mugs, magnets, keychains, ornaments, and T-shirts, among many other novelty items. While I appreciate these gifts greatly as they are creative and sometimes comical, they are rarely useful in my day-to-day duties as a police officer.
Fun gifts are fun, but getting an awesome gift that I can use every day on the job is great, especially because police equipment can get pricey and law enforcement isn't exactly known for its lucrative salary.
It can be a bit overwhelming entering a police supply store, especially if you aren't in law enforcement. Heck, the first year I was on the police department I was lost myself, not knowing what exactly I would need once I hit the street running out on my own. Through trial and error, and with some extra help from veteran officers, I was able to obtain what I needed and still keep within my budget.
For those of you looking for gift ideas for a female officer I hope the following will help. These 5 gift ideas are items that I have found useful as part of my own personal equipment set-up.
Streamlight Strion LED Rechargeable Flashlight with Charger
There are several features on this flashlight that make it my favorite. The first is that it is small and lightweight yet durable. This can be useful for female officers who have smaller hands than their male counterparts. It has a tactical tailswitch that is much easier to use than trying to hunt down the switch on the side of the flashlight when trying to turn the light on in a hurry.
It is also the best flashlight I have used while shooting. Due to its small size and tailswitch, it is much less cumbersome and does not affect my pistol grip, making my shots more accurate and quicker to get on target.
The LED lights are also much brighter and last longer than standard bulbs. I only have to recharge my flashlight every two to three weeks, and that is with high usage because I work nights. The light itself has three different settings for brightness as well as a strobe setting.
List Price: $110
Victorinox Swiss Army Knife Rescue Tool
A pocket knife/multi-tool made specifically for emergency responders can be an invaluable tool to have, especially on incidents involving vehicles. While it has the standard multi-tool pieces such as a pocket knife, toothpick, tweezers, etc., this tool also includes a seat belt cutter and a window punch to break windows.
I have seen several officers use the closest heavy item they have such as flashlights, batons, even hammers, to break windows in emergency situations. But oftentimes these items are stowed in their vehicles and they have to go back to retrieve them. An advantage of this emergency multi-tool is that it is compact and can fit in a pocket or on a duty belt and is readily accessible.
List Price: $76
Hatch Street Gear Kevlar Glove
I have tried a couple of different brands and types of gloves for duty but I always come back to these gloves from Safariland. The first feature I like is that they have Kevlar in the webspace between the thumb and pointer finger. This helps to protect your hands if you're attacked by someone with a knife and you use your hands to grab or block the knife from striking you.
A second feature I like is that these gloves are not too bulky but still keep my hands warm. They allow hands to remain tactile, making it easy to shoot while wearing them and they are thin enough to feel for hidden items in pockets and in various other hiding places while searching prisoners.
List Price: $30
Hinged Handcuffs
I do not have a brand preference here, but I use Hiatt's handcuffs as those were issued to me in the academy and have always served me well. For female officers with a smaller stature like me, or those who don't have the upper body strength to muscle the resistive subject, hinged handcuffs have been extremely helpful in gaining control while handcuffing them and keeping the level of force at a minimum.
The advantage of the hinged cuff versus the chained cuff is that the hinged cuff can be used to direct the subject in any direction the officer needs them to go without losing a grip on the cuffs or control of the subject. I suggest a chained set as well, as hinged cuffs can be difficult to put on obese or overly large subjects. In those cases two pairs of handcuffs are typically needed anyway.
List Price: $49.99
The last gift idea is for the off-duty female officer who carries a weapon while out and about. This "gurse" as I call it, short for gun purse, is an ideal way to carry an off-duty weapon in a concealed fashion without having to wear bulky clothing to cover it up. The Push Pack is 14.5-by-12-by-6 inches and has an across the body strap that can be worn on either side of the body. This makes it look more like a satchel or purse than an arsenal.
Probably my favorite feature of this pack is that it has a zippered pocket in the back solely for the firearm, while additional pockets are set aside for everyday items such as wallets, keys, books, etc. This is a safety feature for me, as I don't want to be digging around in my personal items trying to hunt down my firearm if I need it.
This is by far the best bag I have had for carrying my gun off duty and has held up well against the elements during many a family outing and sporting event for my kids. The pack also has a much more updated look than the standard fanny pack that I have seen several officers using off duty.
List Price: $53.99
I hope this list can help to reduce some holiday shopping stress. Happy holidays and happy hunting!
Related: