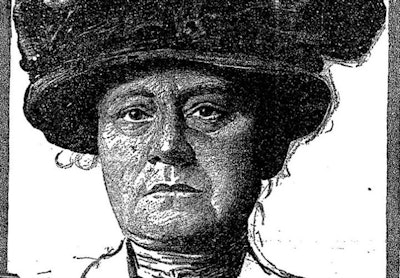 Investigative units in law enforcement seem to be more welcoming to females than the more male-dominated units. This could be because females have been utilized in law enforcement investigations since at least 1912, when Isabella Goodwin was the first female to make detective at the NYPD.
Goodwin, 47 years old at the time, had served 16 years on the force with no prospect for advancement and no way to rise above her $1,000-a-year salary. As a police matron, she could work long hours, never fail at a task, and never qualify for anything higher, because there was no higher post for a woman. Goodwin's story is recounted in "The Fearless Mrs. Goodwin" by Elizabeth Mitchell. Times have changed and that "higher post" has become available to women ready and willing to prepare, work hard, and press on.
Investigative units can be complex and if your agency is large the units are many and specialized. In large departments, first responding uniformed officers rarely work a case past their initial contact and report. Once a scene is secured and the preliminary information has been gathered, the officer turns the scene and case over to their supervisor or to an investigator. Therefore, it is difficult for a uniformed officer to plan and prepare for a transfer or promotion into an investigative unit. These officers will be interviewing for an investigative position with little experience past a preliminary investigation. However, they have more opportunities to promote, along with more training once they reach the unit.
In contrast, it's not unusual for officers serving in small departments to work a case from first responder and preliminary investigation, to composing and obtaining warrants and subpoenas, and filing charges with the DA's office. Some can work the case through with the guidance of an investigator. These officers have a slight edge in experience, but fewer opportunities to promote. Most training occurs in the field.
Although departments and their units are unique, with a good foundation in basic investigation and ongoing training an officer can obtain the tools and skills that will assist them in the field of investigative work.
There are numerous ways to prepare ahead of time so when the opportunity comes you can at least be familiar with the process, terms, and procedures. In most departments not only do you need to prepare for an oral review board, you should also prepare for a written test. There's an online pre-test you can take to gauge how much you know … or how much you think you know, but don't. Take a pre-test, find your weakness, and obtain training in those areas.
Some examples of low cost, online, law enforcement continuing education and seminars specifically for investigators include case tracking, interview/interrogation, written/verbal analysis, composing warrants and subpoenas, computer/smartphone forensics, digital evidence, arrest/search and seizure/asset forfeiture, and case law/legal issues.
There are too many to list especially if you get into the specific unit investigative courses. Some skills needed do not require police-specific training, such as problem solving, decision making, management, communication, general technology, and foreign languages. You can develop these skills by taking low-cost courses through community colleges, small business organizations, or online.
An effective investigator must also possess other skills necessary that can be difficult to teach. Those include analytical thinking, an organized detail-oriented approach, and leadership ability. A good investigator must be able to reduce a complex concept or task into something that is manageable and clearly interpreted. Also, I would argue that leaders are born rather than taught. However, if someone has management, networking, and basic organizational skills, they can usually manage the cases on their docket.
As I've advised in other articles in this series, talk to officers who already hold the position you're interested in. Ask questions. How did they prepare for the job? What can you expect? What is the most difficult aspect of the job and can it be prepared for? What training did they find most useful?
There is a common thread in this series. There are numerous things you can do to prepare yourself for the challenge. Preparation is the key to success. If you put in the time and effort, you'll gain the edge needed as you go before the oral review board to test for the desired position.
Editor's note: This article is part of our ongoing coverage of special assignments in law enforcement. Read the other articles here.
Related:
Tips for Joining the Motor Unit