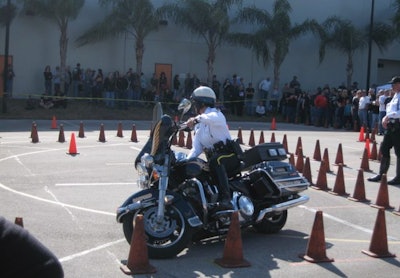 Do you want to be distinguished as the top 0.2% of law enforcement? If you are a female and make it into your agency's motor unit, you will be.
You have to go through rigorous training to become a motor officer. Today, most agencies require an 80-hour basic motor officer course, followed up by riding with a FTO (Field Training Officer), ongoing in-service training, and annual re-certification.
A motorcycle patrol unit assignment is not for everyone and civilian riding experience is not usually taken into consideration. Most agencies require an average of four years of patrol experience. In addition, officers should be self-motivated, mature, safety-oriented, capable of making good decisions, and physically able to handle the assignment.
An inexperienced rider will often outperform the experienced rider at the end of the training period. Respect and a lack of intimidation for the motorcycle along with the department's goals appear to outweigh riding experience.
I interviewed Motor Officer Tina Leman of the Sanford Police Department in central Florida who has written about her experience of "being a female motor officer in a massively male-dominant field." After serving approximately 10 years with the department, Leman says the thrill of something challenging is what initially attracted her to Motors.
To prepare for testing, she had a friend who is a motor officer take her out on her personal motor and put her through some cone exercises, but the first time she dropped her personal bike that was it! This really wasn't much of what she encountered in the actual motor school.
"You really can't prepare for it," she's concluded. "Some of the biggest guys in my department went through it and said it was worse than SWAT school!" And although Leman has never been to SWAT school to make the comparison herself, she says the motor school class will physically and mentally drain you if you allow it.
I was also curious as to the challenges or advantages of being a woman in this kind of training. Leman's says there is definitely no advantage and the challenge is she had to work harder. "You are riding and maneuvering a beast of a machine, so you better be able to handle it if it goes down, because it WILL go down," she says. "You are also riding 'with the big boys,' so to speak, so you better be able to hold your own."
Her conclusion? "I don't feel there is any special treatment; merely an extra respect for doing it. I have to work twice as hard as my male counterparts to reach my goals, but I know I can do it, and I have overwhelming support from fellow motors."
Editor's note: This article is part of our ongoing coverage of special assignments in law enforcement. Read the other articles here.
Related:
5 Tips for Joining a Specialty Unit