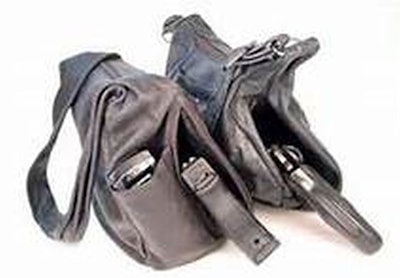 It seems no matter what year you went through the police academy there is always one question that comes up over and over between female officers: "How do you carry concealed off duty?" With so many holster options (belly bands, waist, hip, back, appendix, shoulder, thigh, ankle, purse, even bras and other undergarments), you wouldn't think this question would be so difficult to answer.
Over the years my holster preference has changed depending on the weapon I was carrying at that time. There was even a time I did not carry off duty because it was extremely difficult with three small children. My hips were reserved for one or two babies at any given time. If I had a purse I could not be sure that the children wouldn't get into it or I might have to put it down and not have control over it. Even now with the children grown and only having to consider myself, I still ask if there's not a better way to carry off duty.
There are many considerations, one being your agency's policy in regard to carrying off duty. Most agencies require officers to qualify with their off-duty weapon as well as their duty weapon, and I'm OK with that. However, it is difficult to qualify with smaller-frame weapons because of distances required in qualifications.
I have talked to other female officers, looked through catalogs, gone hands-on at the store shelves, watched videos, and visited numerous Websites to find what's new out there and who recommends what. I did not find a simple answer.
Most holsters have similar drawbacks for women. The problem is our clothing choices do not always make carrying off duty easy. Sure, blue jeans and a T-shirt are easy, but what about a dress, summer shorts, or tank tops? Our clothing is close-fitting, which makes it difficult and occasionally impractical to conceal a handgun underneath it. The bulge makes it much too obvious.
Here's my take on the options we female officers have available to us for concealed carry:
Concealed-carry pants, shirts, and jackets are available, although mostly for men. The women's counterparts are the same cut, style, and colors as the men's, which can hardly be called women's fashion.
A concealment purse is often the most convenient way, but far from ideal. Purses are thrown around, left unattended, prime targets of thieves, and ransacked by kids. Purses also require a two-handed draw—one to hold the purse steady and the other to retrieve and fire the gun.
Shoulder holsters are good for winter or cooler climates when jackets or coats are worn. However, they offer poor muzzle position.
Pocket holsters usually do not fit into a female's pocket, due to most front pockets being cut short.
Thigh holsters slip and are bulky on the inner thigh.
Ankle holsters are harder to access and when sitting down the pant leg tends to rise, exposing the weapon.
Bra holsters are usually for a smaller frame gun and can be difficult to access.
I carry a subcompact Glock 27 off duty and have come to the conclusion that I need multiple holsters. Like most officers, I fall back to what I am most comfortable with, my waist and boot holsters. I am trying out and thinking of adding a belly band. They seem to be comfortable, while versatile and with a trigger guard. They also allow for front appendix carry position. Most contoured/molded waist holsters are too bulky/thick for the front appendix position. I have delayed trying them because I prefer holsters made for my specific gun with some kind of retention and trigger guard.
In closing, because we carry so many different calibers and dimensions a specific brand and product materials used are of personal preference. Here are some important reminders. No matter what you choose to carry, practice with any/all of your holsters. Comfort and easy access are extremely important because your gun is no good if you don't take it or can't get to it.