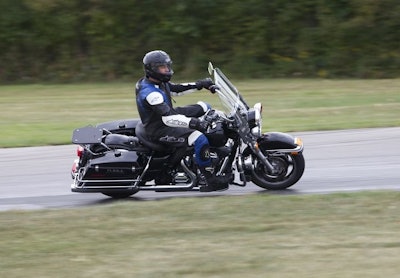 Michigan State Police has released its preliminary test results of 2013 model-year police motorcycles. The police agency tested four models, including the BMW R1200-RTP, the Harley Davidson Road King (FLHP), the Harley Davidson Electra Glide (FLHTP), and the Victory Commander I. The agency's Precision Driving Unit evaluated motorcycle acceleration, top speed, braking, and vehicle dynamics.
The BMW R1200-RTP came in first place for speed, with a top speed of 128 mph. It also had the fastest 0-60 mph time at 4.38 seconds and the lowest 0-100 mph time at 10.90 seconds. Coming in second place was the Victory Commander I, at 5.66 seconds for the 0-60 mph test and 18.04 seconds at the 0-100 mph test.
For the brake tests, the BMW R1200-RTP had the shortest stopping distance, going from 60-0 mph, at 143.9 feet. The Harley Davidson Electra Glide came in second at 144.2 feet.
The vehicle dynamics testing, which involves an average of how long it takes each vehicle to go through each of five laps, saw the BMW R1200-RTP again as the lead, at an average lap time of 1 minute, 41 seconds. In second place was the Road King, at 1 minute, 49 seconds, with the Electra Glide, and the Victory Commander I coming in third and fourth, respectively.
View the preliminary testing data here.
Greg Basich is the web editor for Automotive Fleet.