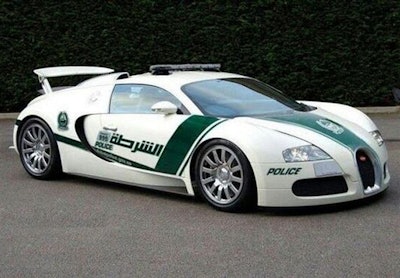 Dubai officials continued their lavish spending on exotic vehicles for their police force by adding a Bugatti Veyron.
The Veyron would be the latest supercar acquisition that has also included a Lamborghini Aventador, Ferrari FF, and Aston-Martin One-77. Dubai Police also added a Chevrolet Camaro SS.
According to Yahoo's Motoramic blog, the supercar fleet will be stationed around Dubai's top tourist attractions, including the Burj Khalifa—the world's tallest building that was featured prominently in "Mission: Impossible - Ghost Protocol"—to highlight the city's urbanity.
The Bugatti Veyron, which carries a base price of approximately $1.4 million, is considered the fastest street-legal car in the world. It's powered by an 8.0-liter 16-cylinder quad-turbocharged engine mated to a seven-speed transmission. It's capabale of reaching a top speed of 267 mph, which may seriously limit the duration of any pursuits.
Chris Wolski is an associate editor with Automotive Fleet, a sister publication of POLICE.