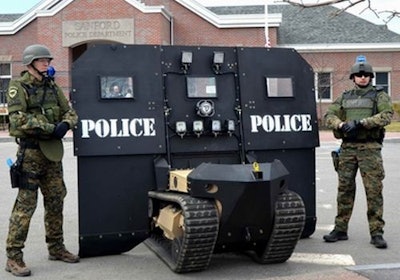 A southern Maine company that produces robotic vehicles for movies and the military has introduced the SWAT Bot, a dual-tracked armored robotic vehicle for high-risk tactical situations.
Howe & Howe Technologies, which is based in Waterboro, is mostly known for its Ripsaw—an unmanned light tank used by the U.S. Army in Iraq. A version of the Ripsaw with a gun turret was featured in "G.I. Joe: Retaliation" (2013). You can view a trailer here.
The company was also featured on the Discovery Channel, which aired the "Howe & Howe Tech" reality show from 2010-2011. In two episodes, SWAT teams requested a field test of the company's Badger, billed as the world's smallest tank.
The SWAT Bot, more formally known as the Robotic Ballistic Shield (RBS1), builds on the company's other armored vehicles, and has been designed with a tactical entry team in mind. A curtain-like ballistic shield attaches to the tracked vehicle to protect up to 12 tactical officers.
Powered by a 25-hp diesel engine, the SWAT Bot weighs 2,290 pounds and includes a 5,000-pound winch, Class III receiver, and ballistic vision blocks. Options include HD video optics, a door entry ram and storage cage.
A tactical team would deploy the SWAT Bot when officers need to enter a hazardous environment and require a shield larger than the human torso. The vehicle provides the operator and team adequate cover from hailing gunfire and explosive scenarios, according to the company. It can also be used as a door breacher or vehicle/debris remover.
The SWAT Bot was developed with input from the Massachusetts State Police and the Southern Maine Special Response Team. It will be sold for less than $100,000, reports WCSH.