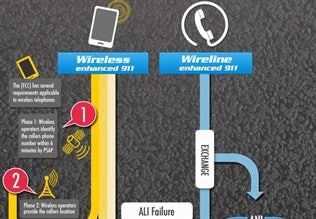 For patrol officers, the disembodied voice crackling over other radio traffic provides an important source of information during an emergency-response incident. Hidden from view is the technology that enables emergency communicators to do their jobs effectively.
The technology kicks in when a distressed wife dials 911 to report that her suicidal husband has locked himself in the bedroom with the family shotgun.
The wife, and other 911 callers from landlines, are connected to an emergency dispatch center that can immediately pinpoint the exact location of the call. This call tracking now exists for only landline calls. But a brave new world will soon be upon us.
Next-gen 911 (or enhanced 911) will enable calls, text messaging, and even video from mobile devices to be sent to the dispatch center, which is also known as the Public Safety Answering Point (PSAP).
Great Call, a mobile services company, has created a helpful infographic to clarify how next-gen 911 technology will better route information from a caller to a patrol officer.
View the full infographic here.
Related:
Next-Gen 911: Federal Funds Drive Implementation