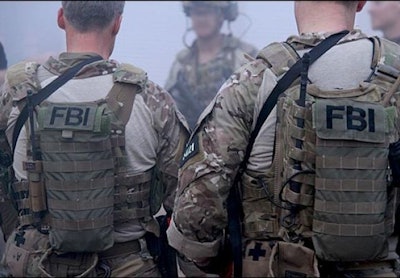 The carefully orchestrated raid that ended a hostage standoff at a survivalist's bunker in Midland City, Ala., was a SWAT tactic of last resort for the FBI's Hostage Rescue Team (HRT).
HRT operators used explosives to breach the 6-by-8-foot bunker after distraction devices were dropped inside, stormed the bunker, shot and killed the suspect, and rescued 5-year-old hostage Ethan unharmed.
The FBI hasn't released much official information about the raid itself, but media reports quoting law enforcement sources have provided some of the puzzle pieces to what was a nearly flawless operation by elite law enforcement personnel.
The Monday raid was triggered by the "downward psychological spiral" of kidnapper Jimmy Lee Dykes, reports ABC News.
"A dynamic entry with explosive breaching is kind of the last resort for tactical situations," Mark Lomax, executive director of the National Tactical Officers Association, told POLICE Magazine. "Usually they're used when time is of the essence and that necessitates that kind of entry."
The FBI's HRT had a full deployment on the scene, which included the crisis negotiation unit, FBI SWAT operations, tactical intelligence, and a behavioral sciences unit, reports the Dothan Eagle.
Agents had been monitoring the 65-year-old Dykes via a hidden camera and saw him wielding a gun and looking agitated, reports NPR. Agents had been in constant communication with Dykes via a mobile phone in the days leading up to the 3:12 p.m. raid. Negotiations had broken down, reports the New York Times.
Secretary of Defense Leon Panetta had approved the use of certain equipment in the hostage situation, reports CBS News. It's not clear if that equipment was used.
In the days leading up to the raid, HRT operators built a mock bunker near the site so they could train for the raid, reports ABC News. During the standoff, Dykes allowed agents to pass items to Ethan such as toys, crayons, and medication because Ethan suffers from Asperger's syndrome and attention deficit hyperactivity disorder.
As HRT operators readied themselves for the raid, negotiators apparently convinced Dykes to provide an opening to the bunker. Two distraction devices were dropped inside, before operators breached the bunker from the top. Within seconds, three or four HRT operators grabbed Ethan and killed Dykes.
Investigators later found two bombs on the property—one inside the bunker and another inside the plastic pipe used to negotiate with Dykes, reports the Associated Press.
Dykes had been holding Ethan in the bunker since Jan. 30, when he stormed a school bus and fatally shot driver Charles Albert Poland, 66.
The HRT, which now has 90 full-time members, is a domestic counter-terrorism unit for high-risk hostage scenarios. The team's motto is the Latin "Servare Vitas" (To Save Lives).
Related:
FBI Raid Frees Child from Ala. Abductor
Negotiators Talking To Ala. Captor Through Pipe