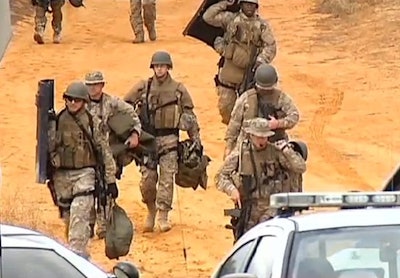 A standoff in rural Alabama went into a second full day as police surrounded an underground bunker where authorities said a retired truck driver was holding a 5-year-old hostage he grabbed off a school bus after shooting the driver dead.
A normally quiet dirt road was teeming with activity Thursday around the siege that began late Tuesday. More than a dozen police cars and trucks, a fire truck, a helicopter, officers from multiple agencies, media and at least one ambulance crowded the stretch where the dead-end residential road branches off a U.S. highway near Midland City, population 2,300. A staging area for law enforcement was lit by bright lights overnight.
The boy being held was watching TV and getting medication sent from home, according to state Rep. Steve Clouse, who met with authorities and visited the boy's family. Clouse said the bunker had food and electricity.
The shelter is about 4 feet underground and has about 6-by-8-feet of floor space, said Police Chief James Arrington from the adjacent town of Pinckard, whose city limits border the neighborhood. Negotiators have been talking to the man through a 4-inch-wide PVC ventilation pipe.
Read the full Associated Press story.
Related:
Family, Friends Mourn Slain School Bus Driver