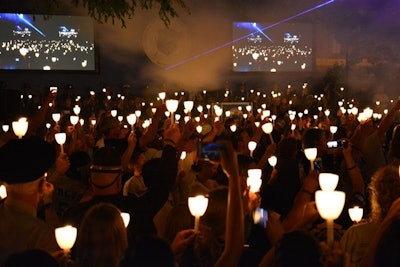 Some 20,000 law enforcement officers, family, survivors, and supporters attended the 2014 Candlelight Vigil at the National Police Memorial in Washington, D.C., Tuesday night.
The Vigil is an annual ceremony that occurs each May 13 at 8 p.m., and it is one of the highlights of National Police Week. Organized by the National Law Enforcement Officers Memorial Fund (NLEOMF), the ceremony pays tribute to officers who died in the line of duty the preceding year. It also honors officers from previous years whose sacrifice was unknown until discovered by NLEOMF and other researchers. Each year the names of the newly fallen and historic fallen are ermanently inscribed on the walls. Those walls now bear 20,000 names.
This year's ceremony honored a span of fallen heroes from High Sheriff John Cook of the Mecklenburg County (N.C.) Sheriff's Office whose end of watch was in 1804 to MIT Officer Sean Collier who was murdered during last year's manhunt for the Boston Marathon bombing suspects.
The ceremony was delayed for two hours due to concerns about the approach of a severe lightning storm. In spite of the alarming weather reports, it ultimately did not rain. Even if it had, the participants, survivors, family members, and officers would have held strong.
At 10 the crowd gathered on the Memorial grounds and the vigil began. But because of time constraints caused by the weather delay, the ceremony moved forward with an amended program.
A United States Park Police honor guard set the stage for the ceremony by performing the presentation of the colors with great precision and honor. Then after the national anthem and the invocation, NLEOMF Chairman Craig Floyd gave remarks paying tribute to the 286 fallen law enforcement officers who were being honored.
Floyd also announced that the riders in the Police Unity Tour raised more than $1.9 million for the Memorial. Over the sound of thundering applause, Floyd added that the Unity Tour's total contribution to date was approximately $18 million. He said the number of officers participating in the Police Unity Tour grows each year, and the organizers expect they'll have more than 2,000 riders for next year's tour.
After encouraging remarks from Attorney General Eric Holder and COPS President Madeline Neumann, Lt. Pauline Wells of the Cambridge (Mass.) Police Department sang a powerful rendition of "Hallelujah." Her beautiful voice, in conjunction with the candle-lighting, made for a memorable moment and proper tribute to the fallen officers and their families.
The candles remained lit as Holder read the first name of the 286 being honored. The dignitaries and officers on the dais followed Holder, solemnly intoning more names.
Once all of the names were read, Inspector Kathleen A. Harasek of the Amtrak Police Department played a powerful rendition of "Taps."
And when the final note sounded, the abbreviated--but still moving--26th Annual Candlelight Vigil was over.