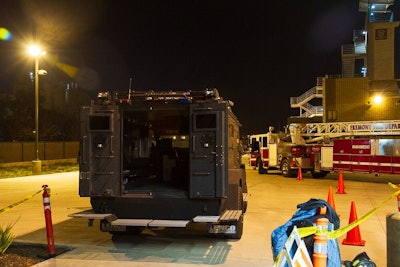 It would be altogether too easy to make this week's column about the news that Cook County State's Attorney Kimberly Foxx dropped all 16 felony counts against "Empire" actor Jussie Smollett.
Smollett walked free after he agreed to forfeit the $10,000 bond he put up and complete two days of community service at a non-profit organization founded by Reverend Jesse Jackson.
Chicago's chief of police and the mayor were justifiably outraged by what the mayor called a "whitewash of justice." The actor walked free despite overwhelming evidence that he staged a homophobic and racist hate crime attack on himself in January and then repeatedly lied about it to responding officers and investigators.
Rank-and-file officers of Chicago PD were equally angry at the fact that thousands of man-hours were devoted to investigating the Smollett hoax while during same time period there were 44 homicides and 214 shootings in the city of Chicago—a gross misappropriation of resources.
Officers nationwide were understandably ticked off because their jobs of investigating subsequent hate crimes—real ones, not allegedly some fabrication from the imagination of an actor seeking more money from his role on a television show with season five's ratings slumping and rumors flying that there will be no season six—have been made more difficult because doubt might be cast on the veracity of such reports.
I could make my column all about that whole stinking mess, but if you didn't see this result as inevitable, you haven't paid much attention to Chicago politics and corruption over the years. Recall that not too long ago, four former Illinois governors were incarcerated at the same time. Four! At the same time!
If you didn't predict this final result, you haven't connected the dots that Smollett is connected to some of the Windy City's top power brokers—dots such as the abovementioned Reverend Jackson—or that Smollett had retained Mark Geragos as his defense attorney.
No, if you were paying attention, you could see this week's outcome coming from a mile away.
Hell, you could probably see this from the International Space Station.
Am I outraged?
You bet I am, but I am also utterly unsurprised.
So, I want to direct your attention to another news item that didn't get nearly the same level of attention as the headlines out of Chicago—and something that slipped beneath my radar almost exactly two months ago.
Partners in Training, Partners in Response
On Monday, we reported on a training event that took place in Vancouver, Canada over the weekend which should be replicated across the United States as well as the nation of our neighbors to the north.
The Vancouver Police Department recently began training together to work closely in delivering potentially life-saving capabilities into "warm zones" in which an active threat may still be lurking.
The new unit—dubbed the Rescue Task Force—will place firefighters in ballistic vests under escort of police so that victims can be cared for more quickly. Firefighters—under armed police guard—can triage wounded individuals and get them out to waiting ambulances, possibly saving countless lives.
Roughly 400 of Vancouver's 800 firefighters have been through the training—700 Vancouver police officers have participated.
The Real Outrage is in California …and Beyond
In writing that news report, I was reminded of something a friend of mine told me a few weeks ago.
He said, "They're ending Urban Shield—it's over, done, finished."
I was incredulous. "That can't possibly be so," I said to myself. But after my friend left my house, I got distracted by something—"squirrel!"—and promptly forgot all about it.
Then, after doing that news item on what our friends in British Columbia are doing, I researched what my friend said.
It's true.
Urban Shield is no longer.
"The Best [Bleeping] Training I've Ever Had"
For more than a decade, police, fire, EMS, public works employees, emergency room staff, and civilians came together for a 48-hour marathon training event utilizing reality-based scenarios—many of which were based on real-life events—to prepare people for any "worst case scenario" in Anytown, USA.
Organized by the Alameda County Sheriff's Office, the event was designed to prepare responders to deal with large-scale emergencies requiring a multi-jurisdictional, multi-disciplinary response.
Scenarios were incredibly diverse—active shooters, earthquakes, hazardous material spills, hostage situations, maritime emergencies, mass-casualty terrorist attacks, search and rescue operations, VIP protection details, and countless others—and judged by police trainers expert in those disciplines.
Scenarios were hosted in myriad locations in all nine counties of the San Francisco Bay Area, drawing citizen volunteers from dozens of cities and towns to act as victims and bystanders.
I've spoken with dozens—if not hundreds—of these citizen volunteers over the years, and without a single exception, each said that it was eye-opening to learn about how first responders go about their business.
I've interviewed hundreds—if not thousands—of responders from police, EMS, and fire who went through this training and without exception, they've said something to the effect of, "That was the best [bleeping] training I've ever had."
Police (Again) Suffering from Political Expediency
However, because of pressure placed on local politicians by anti-police activists who saw it as an event "glorifying police militarization," Urban Shield will no longer be held—at least not in the same way as it previously existed.
In late January, the Alameda County Board of Supervisors limited the event to scenarios based strictly on response to natural disasters.
That decision puts Urban Shield in peril because the $4.9 million UASI grant from the U.S. Department of Homeland Security—which funded the annual event—was based on the agreement that the exercise would include scenarios to help first responders respond to terrorist attacks.
Many people around the Bay Area called Urban Shield "a SWAT thing" but nothing could be further from the truth.
Yes, that was the most visible element, but that barely scratched the surface of the benefits of the annual event. As has been outlined above, Urban Shield was so much more than a "SWAT thing."
Yes, there were tactical teams from across the country and around the globe—teams from places like Bahrain, Brazil, France, Jordan, and Israel have participated—competing in a challenge that tested them in myriad ways.
Yes, trainers scored those teams on their performance in the scenarios, and the team with the highest score was dubbed the winner at the "final exercise"—a banquet dinner at which the teams could relax and unwind after two consecutive days of training and testing.
Urban Shield enabled agencies from around the Bay Area to collaborate all year long in the planning of the event. Business cards were exchanged and relationships were built.
Urban Shield allowed local media to get insight into the professionalism of our first responders. I'm particularly fond of Frank Somerville's coverage of the event broadcast a couple of years ago on KTVU-TV and subsequently posted on his own Facebook page.
SIDEBAR: Frank Somerville is truly a thinking man's journalist—he's smart and thoughtful and fair and we need more reporters like him. Check out his Urban Shield video below.
Final Words of Fury
Over the years, we've seen politicians make some pretty misguided moves that negatively affect police and other first responders.
The decision to end Urban Shield is truly tragic for everyone concerned—not the least of whom are the citizens whose lives might be saved by a cop, firefighter, or paramedic who otherwise would have participated in the training had it not been shut down.
The news of Smollett walking in Chicago is undeniably a cause for outrage.
I'm angry.
You're angry.
But news of Urban Shield being scuttled has the potential for far-reaching negative impacts on law enforcement—and public safety—in America.
For that, we should all be angry.