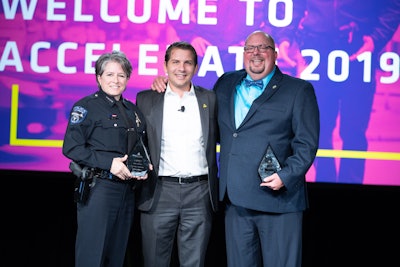 Earlier this week I attended the Axon Accelerate Conference in downtown Phoenix. The annual event is an invitation-only gathering of the company's customers, partners, employees, and industry visionaries and thought leaders.
It's really unlike any other law enforcement event in that it takes an unusual approach in the selection of speakers, many of whom over the years have little to nothing to do with law enforcement but whose perspectives and ideas can positively influence policing.
I'll never forget the year I learned how the ice trade spelled the end of the spice trade—a fascinating story about disruptive innovation.
This year the theme was "Run In"—in recognition of the fact that police officers run toward danger while everyone else runs away.
The company asked conference attendees to apply that same mindset to innovation and technology.
A company employee told me that they wanted to pay tribute to agencies that have helped them build amazing products throughout its history, and made a special appeal to all attendees to embrace their role as tech influencers, and actively engage with Axon in its co-creation.
A Subtext of Wellness
There was another underlying theme that permeated the gathering. My interpretation was "Total Wellness" for law enforcement.
We're not just talking about physical or emotional health—although that was certainly emphasized. We're talking about organizational health and forging healthy relationships with the community. We're talking about ensuring that officers are given the tools and training they need to be better at the profession, and changing some of the negative perceptions of policing.
It all began with the ceremony on Monday celebrating this year's winners of the annual Rise Awards, which seeks to honor those in law enforcement who save lives, lead by example, and find innovative solutions to pressing problems.
The recipients of this year's award were Sylvia Moir, chief of police in Tempe, AZ and Chris Cognac, a recently retired officer who is the co-creator of the "Coffee With a Cop" community policing program.
Moir served as the chief of the El Cerrito (CA) Police Department from 2010 until her appointment in Tempe. Prior to El Cerrito, she spent 19 years with the Sacramento (CA) Police Department where she served in every division of the department.
Cognac is a former fellow for the Office of Community Policing (USDOJ) and a subject matter expert for law enforcement social media, branding, and community engagement.
Chief Moir is a lifelong learner and a cop who loves cops. Axon chose to honor her for her relentless advocacy of mindfulness in law enforcement and all the promising potential of the practice of mindfulness in policing. Chief Moir admits that she loves policing and recognizes that she is now positioned as a chief to amplify the call to action, invest in what is right for those carrying out the work in Tempe, and to continue to do this work that cops deserve.
Richard Goerling, a mentor and mindfulness instructor to Chief Moir, presented her with her Rise Award.
Chris Cognac is a man who truly believes that good cops can make a huge difference in the world. He is a community organizer and underprivileged youth advocate who has created safe spaces for kids and police to play and get to know each other. His efforts have led to what is now the largest community policing program in the world – with meetings happening in 21 different countries and conversations being held in nine different languages.
Chris' mentee—a teenager named Brianna Campos—presented him with his Rise Award.
In both instances, the theme of creating wellness was plainly evident.
I caught up with my good friend Steve Tuttle the following day. Steve is one of the founders of the company that began its life under the name TASER International before two years ago changing the name to Axon. That name change was also about the desire to create a connectedness between police and the people they serve, as well as a connectedness between the various systems they use in their work.
I asked Steve about this theme of wellness that was pervasive throughout the event. He reminded me that for the company's entire existence there has been a cultural focus on protecting life and preserving truth.
"The entire theme is really based on the fact that we've always pushed protect life," he said. "In that you're protecting not just the life of the person that's on the receiving end of a TASER weapon or being recorded by a body camera. It's just as important for the officer to record those moments where you're catching someone at their worst point in their life potentially, as well as maybe on being on the receiving end of being the giver of a TASER scenario."
He continued, "If we're going to be protecting life, why don't we think about the mental health of the police officers and law enforcement. It's become such a more of a holistic approach in terms of what the company's approach is on solving law enforcement challenges."
I've thought for many years now that Axon—nee, TASER—has always been about providing innovative new tools and services. With the introduction of things like the ECD back in the early days, the company was focusing on ways to ensure the safety of officers and offenders. With the introduction of services like Evidence.com, they were seeking to preserve critical data that can be used in criminal prosecution as well as defense against false claims of officer misconduct. With the acquisition of a couple of companies in the artificial intelligence space, they sought to simplify things like video evidence redaction.
The company seems to always be looking five, 10, 15 years into the future and trying to push the envelope beyond the ordinary person's imagination.
During a panel discussion, company founder and CEO Rick Smith made a bold statement that caused a collective gasp in the room.
Unbeknownst to me, my voice recorder had died, so I will paraphrase him rather than quote him directly.
He said that in a decade from now, he believes that less-lethal technology will have advanced so far that the use of a police firearm will become a rarity. He said that officers should still have that force option, but that he envisions a future in which some variant of an ECD will have the range, accuracy, and energy to incapacitate a subject without having to draw a pistol.
He likened the vision to the "Phasers" held in the hands of fictional characters like Captain Kirk, Scotty, Bones, and Uhura in the old "Star Trek" television series—those devices could be set to "stun" mode or switched to a more lethal option.
Many of the concepts the company has brought to market are based on science fiction, so such a thought coming from Smith is actually pretty unsurprising.
New Product Announcements
Naturally, the event featured several product announcements and hands-on demonstrations. I got a briefing on the newest ECD, which has cartridges that can fire darts at both close range and standoff distance. Perhaps this is foreshadowing of CEO Smith's bold prediction on police pistols?
Also featured were demonstrations on the new Axon Body 3 camera, which will have the capability to live stream from an officer's body-worn camera to command or other support staff to help coordinate efforts of officers involved in a variety of activities like search and rescue and tactical response.
I got a demonstration of a new virtual reality training tool focused on de-escalation and crisis intervention. I'd never before donned a VR headset and it was really interesting to see the potential for this new type of training.
Axon also announced Redaction Assistant, an advanced artificial intelligence (AI) powered productivity tool built to increase efficiency for agencies that currently spend up to eight hours manually redacting each hour of body camera video footage.
Axon Air—the unmanned aircraft program for public safety—can now ingest data captured on drone devices directly into Evidence.com. The footage captured is treated with the same rigorous data management system and security protocols that law enforcement agencies rely on to preserve and protect data from body cameras and in-car video systems.
The company also announced Axon Aid—a new charitable initiative which utilizes drone technology to assist in response and recovery efforts during natural disasters. When a disaster strikes, Axon can deploy its team of trained UAV pilots geared with drones and fully outfitted Axon Fleet 2 vehicles to the agency command center. The teams, which are completely self-sufficient, will act as an asset to the agency during their response and recovery efforts. This effort will be executed at no cost to the partner agency. Axon Aid will deploy on June 1, 2019.
What's Next?
All in, the event provided attendees with some pretty thought-provoking ideas. It also served as a reminder—not that any was needed—that Axon is totally committed to helping law enforcement and society as a whole.
As I left for the airport I couldn't help but wonder, "What will they come up with next?"
Only a select few who have access to the company's top secret product development area have an inkling, and trust me when I tell you they're not saying. We'll all just have to wait to find out.