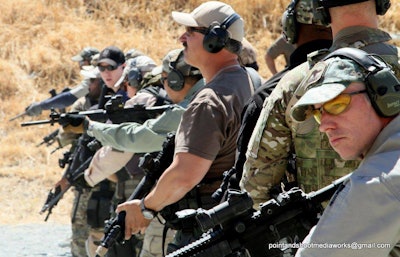 This week's column is deeply and supremely personal—but it's not about me.
This week's column is about you.
Well, OK, in all honesty, it's about you and me—and the relationships I've been blessed to form with law enforcement officers across North America.
It's a thank you for letting me be part of your work and your world.
This week's column is about my deep appreciation for the family of the Thin Blue Line allowing me—a civilian scribe from a city and state not well known for supporting police—to be your adopted brother.
This week marks my one-year anniversary in the role of Contributing Web Editor for POLICE Magazine.
This week also marks my 11-year anniversary as a law enforcement writer, content creator, and trainer.
In that time I've authored well over 1,000 feature articles and commentary columns. I've recorded countless video interviews with some of the top minds in law enforcement training.
And it's all because of you.
This week's column is a GIANT thank you to the men and women of law enforcement who—before every tour, vest-up, pin the badge to their chest, ensure that their duty gear is in good order, inspect their patrol vehicle—and then set forth to face danger at every turn while on duty.
This week's column is a GIANT thank you for allowing me to be part of your journey.
This week's column is all about celebrating 11 years of celebrating law enforcement.
Let's go to "work."
Loving the Work
Policing in America is all too often a thankless job. You do truly heroic things, regularly saving men, women, and children from terrible situations, and it is altogether too uncommon for ordinary citizens to recognize your greatness.
That's where I come in.
It's a joy to shine a light on your greatness.
Day in and day out, officers across the country dutifully fulfill their oath to serve and protect—from amazing acts of heroism to the performance of the most mundane—dare I say "routine"—tasks.
I am but a small part of your day, your week, your career—but I too, also dutifully serve.
I serve you.
I do so not for money or fame or glory or recognition. I do so because I firmly believe that I am one—perhaps two—degrees of separation from keeping someone safe by passing along some small piece of information that I've learned over these last 11 years.
A friend of mine on Facebook recently posted something to the effect that a person who says they love what they do is lying. I get where he's coming from because before I started working in the world of law enforcement, I lied—I said I loved what I did, when in fact I most certainly did not.
Only when I found my true calling working with you wonderful people did I figure out that you can truly love your job.
If you love your mission, you will be fulfilled every day. And I love my mission of helping you be informed and advised of what's happening outside your jurisdiction.
If you love the fact that you make a difference—even if it's the smallest thing—you will go to sleep at night satisfied in what you've accomplished.
I go to bed with a full heart every night.
My Way of Saying Thanks
Because you have accepted me into your family, I've had the great fortune of receiving some of the best law enforcement training available—defensive tactics, arrest and control techniques, and live fire training. I've attended hundreds of hours of classroom training on myriad topics and attended great conferences like ILEETA, IACP, NTOA, CNOA, Cops West, NSA, and a host of others.
I've defeated the confidence course at a nearby police academy… shot steel from the driver's seat of a mock patrol car… been in the stack with SWAT officers making entry into a school during active shooter response training.
I've played the hostage—and the hostage taker—in role playing scenarios and acted the deceased victim during mass-casualty incident response training.
It's been an incredible experience to have a front-row seat to see police officers—and all first responders—push themselves to the limit in training, and to gain insight into how demanding your work is.
I won't name names—in doing so I'd surely make the grave error of leaving someone out—but I've learned from some of the very best police trainers in the world.
Few civilians have the opportunities I've been afforded, and I recognize how fortunate I am for the experience.
I cannot begin to repay you for the knowledge you've bestowed upon me.
However, I continue to try by paying forward in passing along what I've learned in an effort to keep you safer and more successful on the streets.
I see something in the news headlines that reminds me of some lesson I learned during training, or something I read in one of the many police training manuals and/or texts over the years, and I try to summarize those learnings in my weekly column, or an article in the print issue of POLICE Mag.
Passing along what I've learned in my training and learning is my way of saying, "Thank you and I appreciate you."
Most of all, I appreciate the friendships I've made with some of the most amazing people in the world.
In a New York minute I'd come to your aid if you needed it. Officers who know me well know this—those of you who've never met me need only ask someone who knows me.
I cannot even begin to list everyone I wish to thank—you are far too numerous—but you know who you are. I love you guys and gals.
Thank you.
Thank you for everything you do for your communities—and have done for me both professionally and personally.
I'll be back again next week in this space with some thoughts I haven't even had yet.
In the meantime, be well and stay safe.