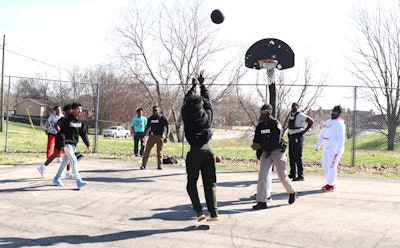 As children in Clarksville, TN, head into spring and summer, for some it may be more likely they will know a police officer now. In November, the Clarksville Police Department launched its Juvenile Engagement Team (JET).
The JET unit is comprised of nine sworn officers and for six of those their only duty assignment is to focus on juveniles, primarily in a positive way. Three other officers from the department's Community Relations Unit also have part-time commitments to JET. The City of Clarksville, the fifth largest city in Tennessee, was awarded a grant through the Community Oriented Policing Services Office (COPS). The grant allowed the police department to fund officers whose sole purpose is to proactively engage the community's youth and potential victims of juvenile crimes daily.
"The focus of our department, specifically JET's, is to help our youth make better decisions before they reach a point of no return," Police Chief David Crockarell says. "JET is not just about enforcement; it's about engagement with juveniles, with the hopes of being able to mentor, develop positive relationships, and meaningful interventions."
Sgt. Arthur Bing, a veteran officer with more than 12 years of service to the department, spearheads the team as supervisor.
"It's not like other departments where you have a patrolman that does it as an extra duty. This is our primary function," Bing explains.
The sergeant said prior to the COVID-19 pandemic there had been an "uptick" of juvenile crime in Clarksville such as entering autos and thefts of items from unlocked cars. However, that subsided a little after the pandemic arrived. In the meantime, the department decided to become more proactive in dealing with juvenile crime.
"Instead of just dedicating a unit to enforcing juvenile crime, one of the deputy chiefs had the idea of it being more about outreach and mentorship, trying to change the culture of the relationship between juveniles and police, and steering kids in the right direction rather than just going out and enforcing juvenile crimes," explains Bing.
Officers on the road volunteered to apply for the positions. Through the interview process, five were selected to shape out the primary JET staff with Bing.
"These were officers that wanted to do the job, officers that had some type of passion for juvenile work and were very interested in doing this work. It just wasn't officers that were randomly pulled or officers who didn't want to be on the road anymore," Bing says.
In November, the officers were assigned to the unit and JET began. In just a short timeframe, JET has already been finding positive ways to engage children and start building relationships.
Since early February the team has hosted Open Gym every other Monday at a recreation center from 4:30 p.m. to 8 p.m. The new program offers tutoring, snacks, basketball, and games for children in grades six to 12. The Crow Recreation Center, the site of JET's Open Gym, is positioned between two schools, but children are welcomed from any school or part of the community.
"With my partner, Officer (Christopher) Angol, we both really liked sports and wanted to be able to give back in that arena so we wanted to have some type of program where we could give kids the opportunities to get out, have tutoring, and play basketball and other recreational activities with officers and other community members that come out," says Officer Tajee Moore, who was a track athlete in college. Two of the other JET officers also were college athletes, both football players.
"All we did was bring our bodies and bring some snacks for the kids," adds Moore.
He estimates about 30 to 40 children attend normally. When Open Gym is on a Monday that is not a school day, the JET officers are still there for the children, but Moore says only 15 to 20 kids show up.
Open Gym lasts through the end of the school year, but then JET will be launching summer sports programs such as 7-on-7 flag football in June and 5-on-5 basketball in July. Moore explains the league is hosted by JET and these are not just JET teams that are competing in a recreation league. Games will be every Saturday.
"We'll get officers and community members to coach, referee, and volunteer their time. Before the games we will have a community member come out and give a motivational speech to get the kids energized," he says.
The JET unit works closely with other groups in the community.
"We are open to working with a lot of different groups around the city. We're open to working with anybody who is doing juvenile outreach or anything for kids," Bing says.
The Clarksville Housing Authority manages four properties in the city and they asked the JET officers to co-sponsor some special events during the recent spring break week. The police department sponsored all the food and drinks for four events, one held at each of the housing authority's properties, on four separate days. The JET officers were there meeting children, meeting parents, and playing games with the kids.
"It was open to the public, but it was mainly geared towards people who lived in those communities. They could come out with their kids and meet all the officers," says Bing.
There were basketball games and activities for the children and organizations from around the city set up tables to provide information for parents to sign up children for special summer programs. There was a variety of information provided such as details about classes offered by an art studio, art classes and summer coding classes at a local college, and the American Job center workshop.
Other than just the special events, JET officers are getting out and building bonds with juveniles of all ages and are working closely with several schools. Some of those schools teach criminal justice and one school has a criminal justice academy that provides concentrated study for students interested in pursuing a career in the field. Recently, JET officers toured some of those students through the jail and frequently participate in class discussions and other events. Moore and Angol even visited a school and taught a fingerprinting class to some of the older students.
Officers are also in the elementary schools attending special events like a school's observance of First Responders Week in December. A picture drawn and signed by students, presented to officers as a thank you during the visit, hangs in the planning room of the JET unit. Before Christmas, JET officers also joined in for the department's annual Shop With A Cop events for area children.
The JET unit engages both young children and teenagers, however Bing points out that they really are focused on working with the older children. This summer JET will host a Teen Citizens Police Academy as well as provide a four-week enrichment class that officers developed to teach teens life skills they will need as they approach adulthood.
"We're trying to help mold kids that are in the point in their lives where they start making decisions on their own and try to steer them toward making the right decisions," Bing said.
Right now, Bing said the department is waiting for Gang Resistance Education And Training (G.R.E.A.T.) to resume certification classes. G.R.E.A.T. is an evidence-based gang and violence prevention program built around school-based, law enforcement officer-instructed classroom curricula. The program is intended as an immunization against delinquency, youth violence, and gang membership for children in the years immediately before the prime ages for introduction into gangs and delinquent behavior.
Bing said the G.R.E.A.T. certification classes were paused during the pandemic, but he hopes they will resume soon so the JET officers can become certified sometime this summer.
"From my research, I felt that a lot of departments had a unit like this that was only enforcing juvenile crime or was only doing certain type of outreach. What I mean by that is they weren't creating their own type of thing, they were just working with a lot of different people and teaming up with a lot of organizations," Bing explains. "I think the difference is that we are trying to do a little bit of everything," says Bing. "We try to do a lot of different things."
It is not all just public events, athletics, and fun for the JET unit. The officers also receive referrals from patrol officers, juvenile parole officers, or other officials that have a young person that can benefit from one of the JET programs or even just more interaction with the JET officers.
Moore, who is in the schools a lot, is now learning that many of the children already recognize him. He runs into them around town and they are excited to come up and say hello. It is one of his favorite parts of his new job.
"The most rewarding is just having that type of relationship with the kids where they want to open up and they want to tell you what is going on, and finding those ways to help them," Moore says.
"Our main goal is ongoing, consistent interaction," Bing explains, detailing how the officers will see these kids multiple times as they strive to build positive relationships.