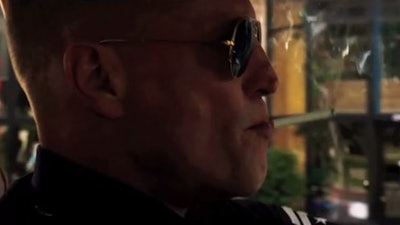 Just what caused the LAPD "Community Resources Against Street Hoodlums" (or CRASH) anti-gang unit scandal? And what are the lessons to be learned from this tragic police corruption investigation? There are many complicated and conscience-probing answers and opinions to be considered, but don't look to find any of them in "Rampart," director/screenwriter Oren Moverman's exploitation movie.
"Rampart" is the opposite of "Courageous," the outstanding law enforcement film made by Hollywood outsiders. What else could we expect from traditional Hollywood movie-makers and their left-wing mindset? "Rampart" is another depiction of the evil white-guy cop, played this time by over-the-top Woody Harrelson, and the good black guy played by gangbanger-gone-actor Ice Cube.
The movie is set in Los Angeles in 1999. According to the synopsis, Officer Dave Brown is a Vietnam vet and Rampart Division cop who's dedicated to doing "the people's dirty work" and asserting his own code of justice. Officer Brown often blurs the lines between right and wrong to maintain his action-hero state of mind. When he gets caught on tape beating a suspect, he finds himself in a personal and emotional downward spiral as the consequences of his past sins and his refusal to change his ways during a department-wide corruption scandal seal his fate."
If you want to understand what really went wrong, you should listen to the training presentation of retired LAPD Commander Daniel Schatz. He was the assistant commanding officer of LAPD's Operations-Headquarters Bureau when the Rampart scandal broke. Commander Schatz assumed command of the Rampart Corruption Task Force. His lecture is illuminating.
Commander Dan Schatz points out that this was not so much a case of police power corrupting good officers, as much as a case of the LAPD recruitment liberalizing of the application and background investigation process that allowed the systematic "hiring of losers" such as Kevin Gaines, Nino Durden, Rafael Pérez, and David Mack.
KEVIN GAINES
On March 18, 1997, at about 4 p.m., LAPD undercover officer Frank Lyga shot and killed Rampart CRASH officer Kevin Gaines following a case of apparent road rage. Officer Lyga reported that Gaines was the first to pull a gun, and that he responded in self-defense. On "Frontline," Lyga said, "In my training experience this guy had 'I'm a gang member' written all over him." According to witnesses to the incident, Gaines was flashing gang signs at Officer Lyga. Further investigation would later reveal that Gaines was driving a green Mitsubishi Montero registered to the wife of Death Row Records CEO and Compton Mob Piru Blood gang member Marion "Suge" Knight.
In fact the investigation also revealed that most of the other officers entangled in the Rampart scandal were associated with Suge Knight and rap recording label Death Row Records. Most of them had spent time as well paid armed security and had been seen partying with the Death Row crew and their groupies.
BIGGIE SMALL'S MURDER
On March 9, 1997 Brooklyn rap star The Notorious B.I.G. (Christopher George Wallace) was murdered in front of the Peterson Automotive Museum in Los Angeles. Wallace's estate filed a wrongful death lawsuit against the city of Los Angeles and named Rampart officers Durden, Pérez and Mack as defendants in April of 2007.
An 18-year veteran LAPD Robbery Homicide detective, Russell Poole, filed a federal civil rights lawsuit against the city of Los Angeles and Chief Bernard Parks on Sept. 26, 2000. Detective Poole had been the lead investigator on the Lyga-Gaines shooting. Poole made the claim that Chief Parks had shut down his efforts to investigate corruption within the department. Poole exposed in his lawsuit specific conversations and direct orders in which Chief Parks prevented him from furthering his investigation into the criminal activities of Mack and Kevin Gaines, as well as the Wallace murder investigation.
Many city officials expressed a lack of confidence with Chief Parks' handling of the investigation. His daughter had allegedly been among the party animals associated with Perez and the Death Row crew. On Sept. 19, 2000, the Los Angeles City Council voted 10 to 2 to accept a five-year consent decree allowing the U.S. Department of Justice to oversee and monitor reforms within the LAPD. Los Angeles Mayor Richard Riordan and Chief Parks opposed the consent decree, but were forced to back down in the face of overwhelming support by the City Council.
DAVID MACK
On Nov. 6, 1997, one of the Los Angeles branches of the Bank of America was the victim of an armed robbery that netted the suspects $722,000. Later the assistant manager, Errolyn Romero, confessed to her role in the crime and implicated her boyfriend, LAPD officer David Mack. Subsequently convicted of the armed robbery, Mack was sentenced to 14 years and three months in federal prison. Even before his arrest, Mack commonly dressed in the Blood gang color red, even in his choice of expensive suits. After reaching federal prison, he renounced all affiliation with LAPD and openly joined the Bloods. He has never revealed the whereabouts of the money, bragging to fellow inmates that he will be a millionaire by the time he is released.
RAFAEL PEREZ
By far the worst "loser" LAPD hired was Officer Rafael Pérez. A native of Puerto Rico who was raised in the streets of Philadelphia, he joined the Marine Corps after his high-school graduation in 1985. He joined the LAPD in 1989. Prior to this, he had been a reject and passed over for hiring by background investigators from several other departments in Southern California. He also looked and acted in a "gang like" manner.
On Aug. 25, 1998, Perez was arrested for stealing six pounds (or $800,000 worth) of cocaine from a department property room. Detectives say that when he was arrested, Pérez reportedly asked, "Is this about the bank robbery?" But Pérez would later deny that he had any knowledge of David Mack's bank robbery, and never testified against Mack. In addition to the six pounds of cocaine stolen, there were 11 additional instances of missing or suspicious cocaine transfers.
On Sept. 8, 1999, Los Angeles District Attorney Gil Garcetti and City Attorney James Hahn cut a deal with Perez to implicate 70 other officers in misconduct. For this deal, Pérez received a five-year prison sentence as well as immunity from further prosecution of misconduct short of murder.
Rafael "Ray" Perez's credibility at the time of this deal was "lower than a jail house snitch's flip flops." And his credibility has been severely undermined since then. He has since testified in several internal affairs investigations in which three officers, including LAPD Officer Brian Liddy, that were accused of crimes or misconduct were found not guilty or the alleged charges were dropped. During these investigations he has failed several lie-detector tests.
His sweet deal with the district attorney allowed him to get out of prison early, but he was arrested by investigators with the California Department of Motor Vehicles in June of 2005 after trying to obtain a license under the name of Ray Lopez. All he got was a few more months on federal probation.
BAD COP MOVIE MANIA
Yes, there were a few "bad apples" involved in the Rampart CRASH scandal. The Hollywood elite would like America to believe that the corruption at Rampart was systemic and that all the cops were involved. That isn't true, and most of the misconduct alleged by Perez and his "gang-want-to-be" partners, was unfounded.
The true depiction of history has never been Hollywood's strong suit. The police are too often portrayed like our U.S. military, as corrupt trigger-happy racists. That's because that's what the clueless movie makers believe. I found this out while working as a technical adviser in a few Hollywood films. Whenever the police technical adviser tries to correct the director or writer's misconceptions, his opinion is usually trashed in favor of what looks good to them.
The real incidents uncovered by internal investigators in the Rampart CRASH scandal have been sensationalized in fictional exploitations such as the video game "Grand Theft Auto: San Andreas," and in television series and movies such as "The Shield," "Training Day," "Faster," and now "Rampart."
We don't need this kind of bad-cop Hollywood myth making. It's unjustified and creates distrust in the community and among our youth. We do have real corruption occurring, but not the kind movie makers like to depict. In a great majority of these cases, it's the honest whistle blowers in the law enforcement community who investigate and expose these anomalous incidents. And who in Hollywood would make a movie about these real heroes?