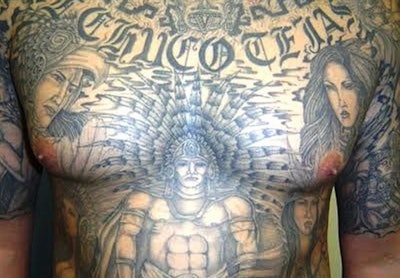 Barrio Azteca gang members Fabian "Shamoo" Rodriguez and Juan "Porky" Manuel Viscaino-Amaro pleaded guility in U.S. federal court to racketeering, murder, and other charges related to the gang's drug and human trafficking.
What is noteworthy in this pleading before U.S. Magistrate Judge Norbert J. Garney in the Western District of Texas, El Paso Division, is that while both are BA members, Shamoo Rodriguez, 35, is a resident of El Paso. Porky Viscaino-Amaro, 41, is a Mexican citizen.
This international criminal organization, which began as an El Paso street gang, has organized and proliferated on both sides of the Mexican border to become one of the most dangerous prison gangs operating in both state and federal facilities. Barrio Azteca is currently at the top of the FBI and DEA threat list.
Some veteran gang members claim that the Barrio Azteca gang can trace its roots in El Paso back to the original 1940s El Paso Tip gang (ept). But local law enforcement experts have documented that the gang was founded in 1986 by gangsters Benito "Benny" Acosta, Alberto "Indio" Estrada, Benjamin "T-Top" Olivarez, Manuel "Tolon" Cardoza, Manuel "El Grande" Fernandez, Raúl "Rabillo" Fierro, and José "Gitano" Ledesma.
At that time, the Texas jail and prison systems were under the control of the Texas Mexican Mafia, or Mexikanemi, and the older Texas Syndicate (TS) prison gangs. The violent wars between these and other power groups within the custody facilities made these two prison gangs the big bullies on the block. They often victimized members of other smaller gangs and individuals, alienating many Mexican national and Mexican-American inmates.
The Barrio Azteca was formed from these alienated inmates. They grew quickly by recruiting violent individuals, especially from the El Paso-Juarez area. The Barrio Azteca goal was to wrestle away control from the other gangs and gain dominance of the prison system. Power in the streets and prison is derived largely from criminal drug dealing, and the gang set out to control the lucrative drug trade.
After its formation in 1986, both the Texas Syndicate and Texas Mexican Mafia refused to recognize the Aztecas and declared war on the gang. Although numerically and financially inferior and facing multiple powerful advisories, the Barrio Azteca gang managed to murder many significant members of their enemies in several Texas prison facilities. As a result, the Mexikanemi and the Texas Syndicate begrudgingly recognized Barrio Azteca. The war ended with a treaty in 1997.
The Barrio Azteca gang members organize themselves using a paramilitary structure and apply English terms or their Spanish equivalent words for ranks such as captain, lieutenant, and sergeant. By current estimates, more than 2,000 members make up their ranks. They often use the letters "BA" or numbers "21" as their identifying symbols and tattoos. FBI sources have also reported that a code comprised of symbols and dots is primarily utilized by incarcerated Barrio Azteca gang members to correspond with other inmates within the prison system.
The Barrio Azteca gang derives most of its income from smuggling heroin, powdered cocaine, and marijuana from Mexico into the United States through the portal it controls between the cities of El Paso and Juarez. The gang cooperates with allied Mexican Drug Trafficking Organizations (DTO) or transports the illicit cargo themselves. The drugs are distributed by the gang on both sides of the border. Barrio Azteca members also are involved in alien smuggling, arson, assault, auto theft, burglary, extortion, intimidation, kidnapping, robbery, and weapons violations.
The BA gang also imposes a street tax, or "cuota," on other criminal enterprises and businesses operating on turf where the Aztecas claim control. They reinvest these funds to fuel the gang's supply of drugs, guns and ammunition. Leaders direct members to forward a portion of their profits to Barrio Azteca members in prison and to their lawyers. Some of these funds are used to bribe police and public officials on both sides of the border.
In March of 2010, the Barrio Azteca gang ambushed a private automobile traveling on a road in Juarez, Mexico, killing U.S. Consulate employee Leslie Ann Enriquez Catton, her husband Arthur Redelf, and the husband of another consulate employee, Jorge Alberto Salcido Ceniceros. Some speculated that the car was shot up in retaliation against the male husbands of the employees, because one of them worked in a custody facility in El Paso where the Azteca gang members were incarcerated. But others suspected that this hit was done on behalf of the Carrillo-Fuentes DTO (Juarez Cartel).
Federal agents arrested 28 people and subsequently charging 35 Barrio Azteca members and associates with racketeering and related charges in a sweep called Operation Knock Down on March 20, 2010. In addition to Shamoo Rodriguez and Porky Amaro, 11 others have already pled guilty.
The Barrio Azteca gang might have been hurt by Operation Knock Down but it certainly has not been knocked out. The gang remains a significant threat to the safety and security of the United States and Mexico and to law enforcement working in and out of custody on both sides of the border.