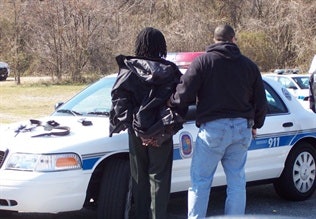 The Prince George's County (Md.) Police Department began seeing an increasing gang presence inside their jail in 2007. As a result, officers with the gang unit went on a mission to identify gang members within the county's Department of Corrections.
It began with identifying and validating gang members. However, there were an increasing number of gang-related crimes that began to endanger staff and non-gang inmates.
Capt. Cedric Gamble, Lt. Dusty Orr, and myself began a systematic dissection of gang activity inside the jail, and began investigating criminal activity in housing units and work details.
We began charging gang members for assaults, robberies, extortion, and corruption. Here are a few examples of what we were dealing with:
One MS-13 gang member attempted to rob his cellmate at knife point (with a shank) at the commissary. The gang member had made a pocket inside his inmate pants to secure the shank. We charged him with attempted robbery and possession of a weapon. He was convicted and sentenced to eight years in prison.
By January of 2008, confidential sources began telling us that correctional officers were bringing contraband into the jails, such as cell phones, drugs, and food. We were also told some of these correctional officers were gang members.
We began listening to inmate telephone conversations, reading inmate mail, and interviewing other inmates and correctional staff. With the help of Capt. Bill Lynn, we developed enough probable cause to take this case to the Maryland Attorney General's office and a grand jury. Unfortunately, the state attorney declined to prosecute. Arrest warrants were sought, arrests were made, and search warrants were executed.
Two correctional officers were arrested and four were terminated. Three cell phones and two battery chargers were confiscated from inside the jail. Inmate gang leaders were transferred elsewhere. Several gang members were charged with possession of cell phones inside the facility.
In 2009, a leader of the Nine Trey Gangster Bloods set attempted to kill another inmate that refused intimidation to join the Bloods. The lock to the victim's cell was manipulated, and the victim's cellmate left the cell. The Bloods gang member entered and began viciously beating the victim. The victim managed to get out of his cell, and the Bloods gang member picked him up and attempted to throw him off the second tier.
The victim fought back, and saved his own life. We charged the Bloods gang member with attempted murder and first-degree assault. The prosecutor decided to drop attempted murder, and charge the gang leader with first-degree assault. However, the victim was released from jail, disappeared, and the gang member simply "walked" on the charges. Several weeks later the same Bloods gang member attempted to kill police officers by shooting at them after a carjacking and vehicle chase.
The lesson to be gleaned from these stories is simple. Never stop doing your job in going after gang members. Even when there is a lack of cooperation with other agencies or within your own, you have to maintain your integrity and work ethic.
Tony Avendorph retired in 2009 after 40 years in law enforcement, serving with the Illinois Department of Corrections, Los Angeles County Sheriff's Department, and Prince George's County (Md.) Police Department.