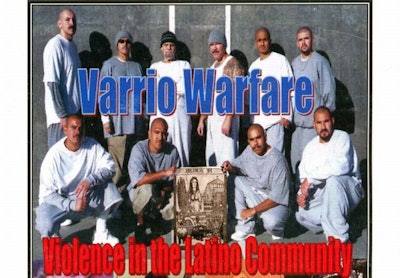 The Latino gangs in Washington, while still outnumbered by Black gangs, have steadily increased, and law enforcement must become more aware of their criminal activities.
I, myself, was never in a gang, but I had family members who were gang members. I grew up in the Yakima Valley in eastern Washington in the late 1970s, where there were active members of California's Norte 14 gang. Because the Norteños are so outnumbered in western Washington by Sureños, some Norteños did drug deals with their sworn enemies. Money becomes the common denominator over "varrio tripping."
Several of the Norteños in King County also belonged to the Nuestra Familia or Northern Structure prison gangs. Others might join the local Norteño Bigg Doggs prison gang. Recently, King County has seen an influx of Norteños from Yakima who have crossed out local Sureño gang graffiti, so there may be future 13 vs. 14 gang disputes of concern to local law enforcement.
I first noticed the presence of Sureño gangs in Washington state in 1980 when a dozen or so gang members from Wapato, Wash., collectively claimed Baker Boyz 13 gang. Several of them were from Bakersfield, Calif. "Baker" is a nickname for the city. About a year later, a group of four cholos, originally from the East Los Angeles area shot up my 21st birthday party. They all claimed "13" out of respect for the Mexican Mafia. This was the first documented case of Sureño 13 gangs in Seattle. After this incident, I began to pay a lot more attention to tracking various street gangs.
The 18th Street gang was one of the first traditional Hispanic gangs to open its ranks to any race for membership, and they were identified in Seattle in the early 1980s. They are active in parts of both Oregon and Washington.
Sets of Florence 13, which is the second biggest Hispanic gang in Los Angeles, are very active in the cities of Mt. Vernon, Othello, Yakima, and the Tri-Cities area. They were identified and active in Seattle by 1982.
The Playboys 13 gang was hit with a gang injunction in Los Angeles in May of 2006, which forced many of them to leave their turf. They viewed Washington state as soft on crime and saw it as a good area for expansion for Playboys (PBS). They were the main shooters involved in the Kent car show shooting in July where twelve people were shot.
The local leader of Rancho San Pedro (RSP13) here is Anthony "Pee-Wee" Archuleta who is also considered an EME (Mexican Mafia) associate.
Other Sureño gangs include the South Side Locos 13 and Varrio Locos 13, which were some of the earliest gangs in Seattle that were active in the 1980s. Most Varrio Locos were American born, while most of the Vatos Locos 13 gang were from Mexico.
The Lil Valley Locos (LVL13) have been active in the Yakima Valley since the 1980s, and they have a loose truce with Florencia 13 in Yakima and Varrio Locos in King County.
Both SSLs and VLs fought for years with the "United Latino 206 Brown Pride" gang—206 is Seattle's area code—and now some UL also align as Sureños. The UL gang was known to deal dope in downtown Seattle from First to Third streets and at Pike Street. The gang often supplied Black gang members of the Bloods and Black Gangster Disciples.
The Mara Salvatrucha (MS-13) came to the King County area in the mid-1990s by way of MS members "Shorty" Escobar and Elmer "Grumpy" Cisneros. Both claimed Pasadena Locos (MS-PLS). By 1998, Grumpy wanted to take over drug trafficking in King County from all Latino gangs. They were engaged in a bloody war with the approval of an original 7-11 Locos MS gang member named Jose "Pava" Mendoza. They also communicated with the number one worldwide MS leader, Nelson Comandari. Grumpy and other MS members were eventually convicted of multiple murders and assaults from 1998 to 2005.
Gabe Morales worked at the King County Jail in Seattle for over 17 years in the Classification Section where he specialized in Security Threat Groups. He is also a current advisor for the International Latino Gang Investigators Association and an event coordinator for the ILGIA 2012 conference in Seattle.