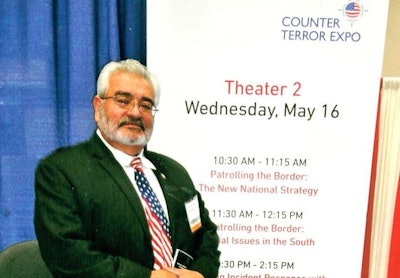 Although most of the time we are unaware of the struggle, there is a constant battle in our everyday lives that all criminal investigators endure. The dreary grind of the common everyday incident investigations, and the paperwork and procedures associated with it, is what I call "the fog of minutia."
Like the warrior's "fog of war," this fog causes us to become lost in the battle, reacting only to the immediate perception of a problem. We're often blinded to the more important and larger tactical tide of the battle—the big picture.
We often focus on one puzzle piece rather than the whole puzzle. If we would slow down and step back, we might see the whole of our enemy's tactics and battle plan. We could be more proactive and less reactive. This wider perception of problems enables criminal investigators to recognize trends, alliances, tactics, conspiracies and connections in the underworld. This is what is needed in the battle against gangs, cartels, and terrorists.
From May 16-17, I attended the Counter Terror Expo at the Washington Convention Center in Washington D.C. The convention was put on by Clarion Events with partners from the Mackenzie Institute, Five Stones, IACSP, Infragard, Homeland Security Today, the INSA, ICTOA, and others.
The event's speakers and presenters were prominent experts in the field of counter-terrorism. This august group of "go-to guys" included keynote speakers Michael Leiter, former director of the National Counterterrorism Center (NCTC); and Thad Allen, a former U.S. Coast Guard commandant. Even veteran counter-terror experts from my era such as Brian Jenkins, senior advisor to the president of the Rand Corp., made appearances.
Displayed on the convention floor were some of the most advanced technical counter-terror tools and cyber programs. In earlier years, the Counter Terror Expo has been held at Olympia Exhibition Center in London. The 2013 Expo is scheduled there April 24-25.
I was asked participate in a three-person panel on patrolling the border. The panel was moderated by online editor Anthony Kimery of Homeland Security Today magazine. I was privileged to present the topic with two fellow panelists. The second panel member was Michael Johnson, an ICE special agent and national program manager for the agency's homeland security investigations as well as a member of the Border Enforcement Security Task Force.
The third panel member was Sylvia Longmire, a former senior intelligence analyst for the California state fusion center and the California Emergency Management Agency's Situational Awareness Unit. Longmire is also the author of "Cartel," an excellent book on the subject.
This is the first time that the expo has been held in this country, which made it an appropriate forum to discuss patrolling the U.S.-Mexico border and the war against drug and human trafficking organizations.
If you've attended any of my law enforcement training in the past few years, you've heard me refer to the "unholy trinity." I borrowed the term from an article in the August 2009 issue of Homeland Security Today to describe the alliance of American street gangs, drug and human trafficking cartels, and international terrorists.
This nexus is important to anybody working any part of this "unholy trinity." It means that traditional street gangs born in our urban jungles are not just a local problem. Increasingly this American-spawned phenomenon can also be linked to international or transnational gangs and drug trafficking organizations. They are potentially a vicarious surrogate army to be used by international terrorists. To continue to deny that this nexus exists is to ignore valuable clues to the prevention of larger more serious criminal activity and possibly the next 9/11, Mumbai, or Beslan.
Shortly after 9/11, as a member of the FBI Los Angeles Multi-Agency Metropolitan Violent Gang Task Force, I pointed out Los Angeles MS-13 leader Nelson Comandari's activities and travel suggested that he was more than just a local gang leader. He had international ties.
But the FBI agents only laughed at any suggested narco or terrorist conspiracy involving Los Angeles street gangs and pointed out that young Latino gang members are from a Catholic culture, and that they have little in common with radical Middle Eastern Muslim terrorists.
I asked the FBI Agent, "You ever hear of the IRA?" The Irish Republican Army (arguably from a Catholic culture) in the 1970s and '80s trained together with the PLO and Middle Eastern Muslim terrorists in Libya and the Bekka Valley. Did he not know that the international terrorists Ernesto "Che" Guevara and Carlos the Jackal were natives of South American countries?
In 2003, Nelson Comandari was arrested at the border returning from El Salvador and extradited to New York where he was prosecuted for a unrelated multiple-kilo cocaine conspiracy. It turned out that Comandari was of Lebanese and Palestinian decent and politically connected to the Salvadorian Revolutionary Party—Farabondo Marti National Liberation Front (FMLN), as were many other MS-13 members. A statue of PLO leader Yasser Arafat stands in his honor in San Salvador dedicated to him for his assistance in the Salvadorian Revolution (from 1980-92).
I used to keep a picture of FBI Agent Coleen Rowley as my computer screen saver at the Los Angeles office of the FBI task force. None of the FBI agents seemed to recognize who she was. After the Sept. 11, 2001, attacks, Rowley wrote a paper for FBI Director Robert Mueller documenting how FBI headquarters personnel in Washington, D.C., had mishandled and failed to take action on information provided by the field office in Minneapolis, Minn., regarding its investigation of suspected terrorist Zacarias Moussaoui. These failures may have left the U.S. vulnerable to the 9/11 attacks.
I am sometimes asked, "What can I do, as an ordinary officer, to help prevent another 9-11, in this war against terror?"
Break yourself out of your "fog of minutia." Expand your perception so you see a larger picture. Note possible links to bigger crimes and criminal groups and follow up when you can. Educate and train yourself in these skills, so you become the advanced warning system, the threat detector. And teach others to do the same.
The big boys who were represented in this Counter Terror Conference obviously have recognized and acknowledged the real threat posed by this unholy trinity. We in law enforcement can no longer remain in denial or allow politically correct blinders to hinder our efforts to secure our homeland.
Related:
Gangs Abandon Honor for an Unholy Alliance
Are Muslim Radicals Crossing Our Border?