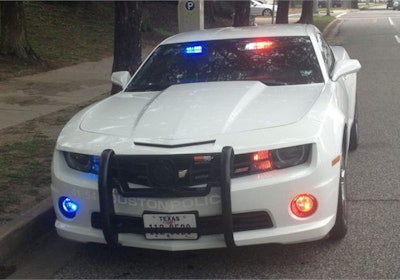 An unlikely sponsor has helped the Houston Police Department's Traffic Enforcement Division replace aging patrol cars with V-8 Chevrolet Camaros and Dodge Chargers to catch aggressive drivers and drunk drivers.
Mario Williams, the Buffalo Bills NFL star who befriended officers when he played for the Houston Texans, donated the 10 stealth vehicles over the past two years to a productive unit that issued 100,000 tickets for moving violations and accounts for half the agency's drunk-driving arrests. In 2012, the unit arrested 3,000 suspects for DWI.
To achieve its prolific enforcement numbers, the division deploys the unmarked cars during enforcement stings on highways that run through city limits such as interstates 10, 45, 610 and 69. Various toll ways and state routes also crisscross through the nation's fourth largest city. Texas troopers handle highway enforcement in the suburban and rural areas.
Powered by 6.2-liter and 5.7-liter V-8s respectively, the Camaros and Chargers sneak up on speeders and aggressive weavers without much warning. The 2011 model-year Camaros are known as the "ghosts" because of their white-shaded "Houston Police" lettering on a white paint scheme. The 2013 Chargers are known as "phantoms" because of their black-shaded lettering on a black paint scheme.
"They're great for aggressive drivers," Capt. Larry Baimbridge tells POLICE. "They don't see them until it's too late. That's where the paint and stickers comes into play."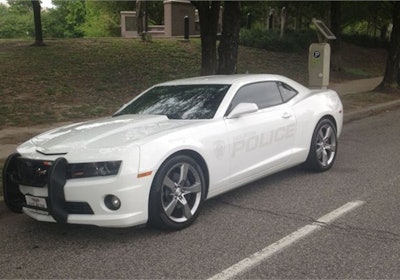 The agency has thanked Williams, who has expressed an interest in law enforcement when his playing days are over. Chief Charles A. McClelland, Jr. presented Williams an honorary badge at a March ceremony.
"I wanted to give back to the city of Houston and to the men and women who put their lives on the line protecting the city," Williams told POLICE in an email. "Ever since I've been out of college, law enforcement has been something that I looked heavily into, so it kind of became something that I was fond of."
Because the Camaros are designed as retail vehicles, the enforcement unit needed to modify them for law enforcement use. Most notably, the Camaros can't transport prisoners, Baimbridge said.
The department's mechanics custom-made the center console and in-vehicle computer to fit into the Camaro's smaller cockpit. A Whelan lightbar was added, along with LED lights along the upper inside edge of the windshield and rear window. Emergency lighting was added to the side panels and grill.
"When you light them up, it lights up like a Christmas tree," Baimbridge said.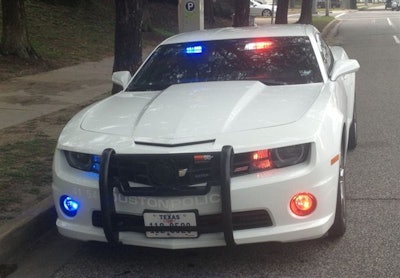 The department also added a larger alternator to the Camaro to adjust for idling. That way the vehicle's lighting package doesn't kill the battery.
The traffic unit is staffed by 130 officers, a captain, five lieutenants and 20 sergeants. They work various shifts. Some are assigned radar or LIDAR enforcement, while the others search for drunk drivers at night. Patrol officers are encouraged to apply for the role, Baimbridge said.
"We're very selective," Baimbridge added. "We try to take motivated officers. If you enjoy doing traffic and DWIs, this is a great division to work in."