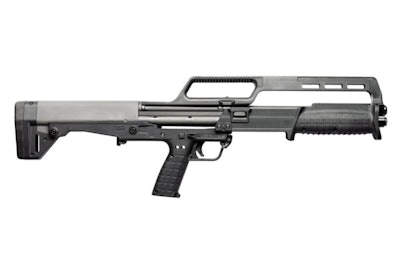 KelTec is now officially shipping the KSG410, the latest in its line of KSG shotguns.
"This is the lightest, thinnest, and shortest 410 bullpup shotgun in the world," said Matt Stanek, KelTec marketing manager.
The new KSG410, like the rest of the shotgun line, is an ambidextrous, downward-ejecting bullpup, which the company said makes it an ideal option for left-handed shooters. At just over 1.5 inches wide, the slim, compact new KSG houses a barrel and two magazine tubes with a 5+5+1 capacity of 3-inch shells, reported KelTec.
Weighing only 5.4 pounds, the KSG410 is also very light and easy to handle, according to KelTec. Like the KSG and KS7, it's also only 26.1 inches long.
"The 410 is a KSG family sidekick with no kick. It's virtually recoilless by any pump-action shotgun standards we could find," said Chad Enos, KelTec brand specialist.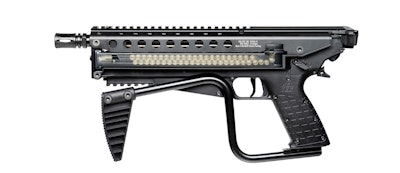 R50 Defender Carbine
KelTec is now also shipping the new R50 Defender carbine in the 5.7x28 mm platform.
The R50 Defender features a side-folding stock that rests on either side of the grip. When folded for compact storage, the overall length is only 16.4 inches, including the ½ x 28 threaded barrel.
While it comes with utility sights that are adjustable for windage and elevation, the R50 and P50 (a pistol variant) series receivers offer more than 7 inches of Picatinny rail space up top for mounting almost any optic or accessory you choose. Two inches of bottom rail space provides an attachment point for light and foregrip options.
"Like many of our rifles, the R50 Defender is ideal for small game hunting, home defense, or just enjoying the envy of your friends at the range," said Derek Kellgren, KelTec managing director. "Especially if five-seven velocity is your thing."
P50 Rifle Kit
KelTec also added the P50 Rifle Kit, an accessory for existing P50 owners that converts the P50 into a short-barrel rifle after the proper government forms are filed and approved.
"There are firearms created to be practical and firearms made to be cool," said Stanek. "The R50 is both practical and cool."