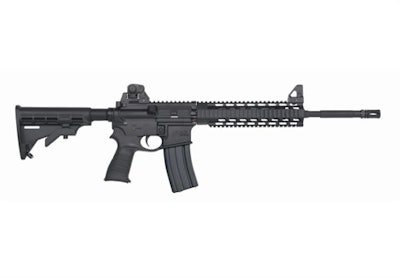 Following up on its AR-style Tactical .22, Mossberg is getting into the AR business, offering the MMR (Mossberg Modern Rifle) AR-15 in tactical and hunting configurations.
Mossberg will initially offer the MMR Tactical as a standard M4-style carbine and the MMR Hunter for varmint or small/medium game hunting. Both rifles will be chambered in 5.56mm NATO/.223 Rem.
The MMR rifles feature a traditional direct-impingement gas system and free-floating, button-rifled, carbon steel barrels with 1:9 twist rates. They are fitted with single-stage triggers and an oversized trigger guard so the rifle can be used with gloves. The rifles also feature Stark Ergo Pistol Grips with a convenient battery storage compartment. To further enhance operation, the charging handle is oversized for quick and effective engagement by right or left-handed shooters, and the forward assist has been removed.
The MMR Tactical arrives with a black phosphate/anodized finish with a 16.25-inch, free-floating barrel with removable A2-style muzzle brake; aluminum Picatinny quad-rail forend with vents; receiver-mounted integral Picatinny rail; and standard dust cover.
Options include a six-position adjustable or fixed stock that allows for up to four inches of LOP adjustment. It will be available with or without a removable Picatinny-mounted front sight (adjustable for elevation) and rear sight (adjustable for windage and elevation). Customers can choose a 10- or 30-round magazine. MMR Tactical rifles accept most higher-capacity AR-15 style magazines.