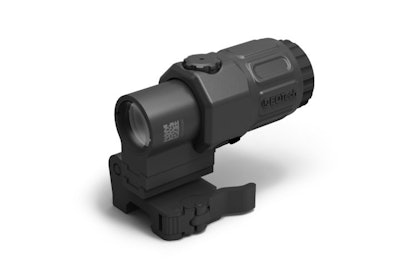 EoTech will introduce the G33 3.25X magnifier at SHOT Show 2012 next week in Las Vegas.
This new magnifier offers an adjustable diopter for improved, more precise focusing, according to the company. The magnifier increases the size of the target rather than the reticle. This magnifier is also more compact than the company's G23.
The G33 model needs only 3.9 inches of rail space. Also, eye relief has been extended to 2.2 inches, which allows for a more comfortable cheek weld while shooting.
The angle of field of view has also been increased to 7.3 degrees, which gives the operator increased left-to-right situational awareness. The new Quick Switch to Side mount twists the magnifier out of the way for shorter range shots and can easily be knocked back into place for distance. Operators can pair the G33 magnifier with an EoTech holographic sight to extend shooting range out to nearly 600 meters.
The G33 is available in black and tan and will be availabe in the spring. It retails for $589.