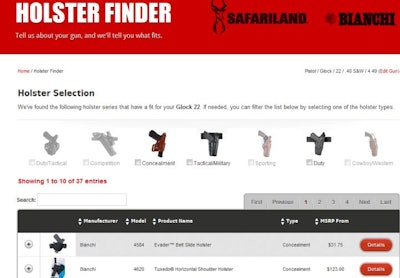 Safariland has launched an online tool that makes it easier to to select a holster from the Safariland and Bianchi holster lines, according to the company.
The online Holster Finder application is accessible through the Safariland homepage. In three easy steps, the selection of available holsters is displayed.
Once the gun is selected, users can quickly scroll through all holsters offered, or further narrow down the selection by choosing a type such as duty, tactical, or concealment. Once the desired holster is found, users click on the Details tab to see information about the base holster model, including the various configurations in which it can be purchased.
Information on each holster configuration can also be viewed. The tool provides part numbers for each "will fit" configuration. Links to purchase the base model holster are also provided if the holster is not available online.