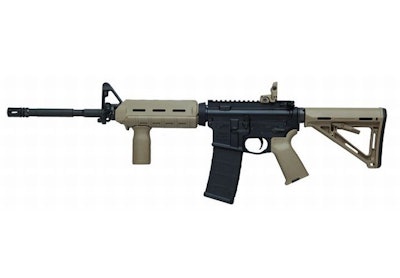 Colt Defense has introduced the LE6920MP, a version of its AR-type rifle that arrives with eight Magpul firearm accessories. The rifle will be available in several color configurations.
"Magpul has earned its reputation for developing and manufacturing some of the most innovative firearm accessories available, and by making those accessories available as standard equipment on the new Colt LE6920MP we feel confident this firearm will be one of the highest quality products available," said David Ridley, vice president of Colt Defense.
At the base of this new AR platform rifle is Colt's popular 6920 law enforcement carbine, proven to be effectively mobile during tactical deployment and traditional patrol. With a fully retracted buttstock, the carbine measures only 30.5 inches and weighs in at only 6.8 pounds. Tried and true, this carbine boasts proven advantages like a safe, semi-automatic rate of fire for potent firepower capability and speed of target acquisition.
The advantage of the LE6920MP is the addition of Magpul's American-made accessories as standard equipment. The Magpul Original Equipment (MOE) additions are cost effective products engineered to enhance weapon performance and usability.
"The Colt name has been synonymous with quality, reliability and pride in craftsmanship for decades," says Drake Clark, senior director of OEM sales at Magpul Industries Corp. "The integration of Magpul's industry leading designs into Colt's top quality AR-15s brings tremendous value to the customer."
Magpul accessories on the new Colt LE6920MP platform include the MOE vertical grip (MVG), MOE hand guard, second-generation rear back-up sight (MBUS), MOE-K hand grip, MOE trigger guard, MOE carbine stock, and two 30-round Magpul polymer magazines (PMAG).
The Magpul MOE vertical grip (MVG), which is attached to the mid-length MOE hand guard and features an ergonomic design, is optimized for use with the thumb-break shooting method. The LE6920MP is the only rifle on the market that offers the MVG as standard equipment.
The Generation 2 Magpul rear back-up sight (MBUS) is a spring-loaded flip-up sight that stows to just .51 inches above the rail and can be folded with either aperture in position. The MOE-K hand grip, with a compact design and a steeper, more vertical grip angle allows for improved comfort and control. Paired with the MOE-K grip is the polymer MOE Trigger Guard that has rounded edges and features a shallow "V" shape, beneficial for shooters wearing gloves in tactical or cold weather operations.
Also issued on the rifle is the MOE carbine stock, which has a streamlined A-frame profile. An extra-power lock mechanism with premium chrome-silicon springs helps to prevent auto-collapse failure and resists spring relaxation to deter auto-collapse failure. The rubber butt-pad offers prevention from shoulder slippage, even while wearing modular gear or body armor.
All models also come with two durable 30-round Magpul polymer magazines (PMAG) which have become the industry standard for reliable, impact-resistant and resilient rifle-compatible magazines.
Colt will offer models in black (LE6920MP-B). Other models being offered are the LE6920MP-FDE rifle, which features Magpul parts in flat dark earth; the LE6920MP-O including Magpul parts in olive drab; and the LE6920MPG-B with green anodized receivers and Magpul parts in black. Excluding the LE6920MPG-B, these rifles are also available with a bullet button for California compliance.
Both companies are excited to announce this partnership and bring these superior firearms to market.
"Combining our products and giving shooters a quality rifle complete with accessories straight out of the box is something we're excited to offer shooters," said Ridley, "It is likely that this will not be the last product to come from this partnership."